Aarzoo Singh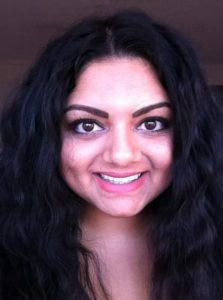 Areas of Interest
Postcolonial Histories
Affective Archives
Object Studies
Alternative Epistemological Sites
Critical Race Studies  
Biography
Aarzoo Singh is a PhD candidate at the Women & Gender Studies Institute at the University of Toronto. She completed her undergraduate degree at Ryerson University with a Bachelor of Design and her Master's degree from Queen's University in Gender Studies. Her research focuses on the theoretical and experiential connections between objects, things, locations, and displacement for the South Asian Diaspora. Her work draws on diaspora, affect, postcolonial, story-telling, and  object theories. Her PhD dissertation emphasizes the ways in which objects that are laden with memory, emotion, and affect illuminates migratory cultures and the politics of home.  
Program: PhD, 2014
Education
PhD, University of Toronto (current)  
MA, Queen's University  
BDes, Ryerson University 
Dissertation
Title: Object Stories: Tracing South Asian Colonial Histories of Displacement through Affective Archives (working title)
Supervisor: Dina Georgis
This project examines how written histories have oftentimes privileged the voices of colonial settlers while silencing the everyday lived narratives of those violently dislocated victims of colonization, particularly within the context of India's Partition. It is through a comprehensive understanding of different sites of knowledge and knowledge making that I investigate the ways in which learning histories of colonial violence move beyond the traditional text of official archives. From this, I focus on memories, narratives of the everyday, oral histories, and physical objects and heirlooms that are shared between and reinforce intergenerational linkages among colonial and postcolonial subjects. I look at what I am calling affective objects: sites, things, heirlooms, and artifacts that, because they are intimately linked to familial and community history, are laden with emotions or feelings. More specifically, I suggest that the entwining of discourses of identity, race, nation, home, and community—as understood alongside South Asian diasporic exile and displacement—are discourses that not only inform, but emerge from, movable objects. That is, in re-examining the spaces produced by affective objects, I uncover what moments of colonial continuity—that of the on-going colonial present—can be seen and potentially broken or challenged. 
Presentations
Displacement through Affective Archives" for the Temporal Belongings Conference, The social life of time: power, discrimination and transformation. Edinburgh, United Kingdom. June 5, 2018.

Guest Speaker/Panellist, University of Toronto's Gender, Diversity and Public Policy Initiative Roundtable, "Hate Speech and Free Speech: How can we effectively regulate", Toronto, Ontario, Oct. 30, 2017.

Presenter, University of Calgary, "The Rani Harr and the Memory of the Subaltern Woman" in the Panel "Family Stories: Inheritances, Transitions, Leftovers" along with Dr. Dina Georgis and Dr. Sarah Trimble for Congress of the Humanities and Social Sciences: Energizing communities. Calgary, Alberta. May 30 2016.
Selected Publications
Singh, Aarzoo. "Recovery after the Rupture: Linking Colonial Histories of Displacement with Affective Objects and Memories." DisClosure: A Journal of Social Theory, vol. 28, art. 9, 2019.
Honours and Awards
2018
Brianna O'Connor Hersey Scholarship recipient 
University of Toronto SGS Research Travel Grant 
Centre for South Asian Studies' India's 50th Anniversary Graduate Award 
2016
University of Toronto SGS Research Travel Grant 
Women and Gender Studies Institute Teaching Assistantship Award
2015
Ontario Graduate Scholarship (OGS) recipient
2014
University of Toronto Jackman Junior Fellowship  
University of Toronto Women and Gender Studies Institute PhD admission award 
2013
TA Award: Christopher Knapper Award for Excellence in Teaching Nominee 
Queen's University Graduate Award
2012
Queen's University Graduate Entrance Tuition Award  
Sue Hendler Scholarship Award for Academic Excellence, Queen's University