Binta Bajaha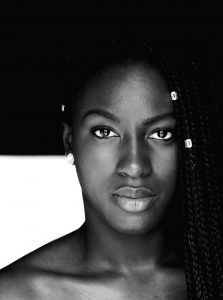 Areas of Interest
Feminist Political Ecology and Political Economy
Gendered and Intersectional Vulnerability associated with Climate Change in the Sahel
Climate Humanitarism and Climate Financing
Gender Transformative Climate Responses within United Nation's Framework
African Feminist, Transnational Feminism and Feminist Praxis
Environmental Politics, Governance Regime and Securitization in the Sahel
Agri-Food Regime
Livelihood and Human Security
Feminist Studies of Migration and Displacement
Biography
Born and raised in The Gambia, Binta has always developed a sense of curiosity about the world and the complex historical past that binds and separates the globe's population and shape distinct geographies, genealogies and geopolitics. This sense of curiosity has seen her pursue an undergraduate degree in Canada and postgraduate degree in England. Graduating on the Dean's List at the University of Western Ontario in Double Major in History and Global Studies, Binta continued her educational journey to the London School of Economics where she graduated with a MsC in Gender, Development and Globalization. Her career path since then has been with the United Nation's in its fight to increase food security and gender equality in New York for UN Women and Rome for World Food Programme. Her last role has been in heading the Gender Unit in the World Food Programme's $250 million yearly emergency response to the Rohingya refugee crises in Cox's Bazar, Bangladesh. Leading gender-transformative programmatic interventions in ensuring Rohingya women, men, boys and girls have their needs met in a dignified manner, Binta worked using an inter-agency approach to create resilience and livelihood projects for women and adolescent girls that are at risk of gender-based violence within the refugee camps. Binta is currently pursuing a PhD, researching the field of climate adaptation, resilience and financing drawing upon  feminist political ecology and an intersectional and feminist lens focusing on sub-Saharan Africa, especially the Sahel.
Program: PhD 2019
Education
MSc, London School of Economics, UK: Gender, Development & Globalization.
B.A. (Honours), University of Western Ontario, Canada: Double Specialization in History and Global Studies
Dissertation
Title: Climate Change and Intersectional Vulnerabilities in West Africa's Sahel Region
Supervisor: Marieme Lo
Adhering to urgent call for critical feminist research and intervention in the response to climate change, I plan to explore the gendered vulnerability associated with climate change, adaptation and resilience through an intersectional feminist framework, unpacking the compounding factors of oppression, vulnerabilities and deprivation that prevent rural women's abilities to and make informed decision about local, national and transnational climate financing mechanisms. Rather than examining climate change, climate financing and women's economic empowerment or disempowerment as separate variables in isolation, the convergence of these intervening and other extraneous factors will need to be examined relationally through a critical feminist lens, highlighting the embodied and lived experiences of those further left behind – in this context, rural women farmers and peri-urban dwellers  in West Africa's Sahel. 
Selected Works
Postcolonial Amnesia: The Construction of Homosexuality as "un-African". 2015, London School of Economics, Graduate Working Paper
Honours and Awards
2015
London school of Economics- University of Cape Town, Africa and Global Transformation Bursary

2008-2009
University of Western Ontario, Dean's List

2006
2020-21
2020-21
African Studies Mentorship Award
2021-24
SSHRC for proposed dissertation of "The Sacrificial Realities of Climate Change- Interrogating Intersectional Vulnerabilities, Resilience and Agency in the Sahel"