Heng Wang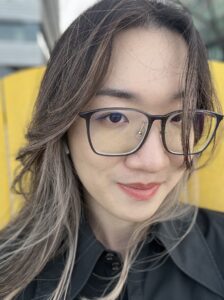 MA Student
Areas of Interest
Trans Studies
Transnational Feminism
Sinophone Queer Studies
Sex Work
Sexual Ethics
Affect
State Violence and Censorship
Ethnographic Filmmaking
Biography
Heng WANG (they/she) is a Chinese researcher, activist, and journalist based in Toronto. After graduating from Peking University with LLB Honours in Sociology and BA in Theory and History of Arts in 2022, they moved to Toronto and enrolled in the MA program at Women and Gender Studies Institute with a collaborative specialization in Sexual Diversity Studies at the University of Toronto. Heng's past research examines the historical formation of "transness" and how the non-normative and transitioning states of the trans and intersex bodies are simultaneously repulsed and weaponized to reproduce "consent" as modern sexual ethics. They integrate interdisciplinary methodologies, including archival study, ethnography, and textual/visual analysis and intend to explore how the racialization of Asian trans bodies implies the problem of sexual ethics in their future research.
Heng commits to promoting the rights of 2SLGBTQ+ and BIPOC communities and social justice in the global south. They were the chair and have been a researcher in the academic department of ColorsWorld, an LGBT+ Non-profit Organization since 2020. Now they are a committee member of the 2SLGBTQ+ Student Mental Health Advisory Committeein the Centre for Sexual and Gender Minority Health Research, co-supervising a project named Mapping Services to Support the Mental Health Needs of Diverse 2SLGBTQ+ Students Across the University of Toronto.
Heng became a freelancer and film journalist in 2019. They have covered TIFF and SFF for World Screen, one of the most influential and mass-circulated film journals in China. They also write articles for other Chinese film media such as 1905.com and Toro Scope. Heng was accepted into the TIFF 2023 Media Inclusion Initiative and the 2024 Sundance Film Festival Press Inclusion Initiative, both with media accreditation and a stipend.
Program: MA 2022
Education
LL.B. Honours in Sociology, Peking University
B.A. in Theory and History of Arts, Peking University
Master's Research Paper
Title: Tranny Trickery: Consent, Negativity, and Trans-Intersex Corporeality
Supervisor: Shana Ye
The paper critically examines how intersex and trans bodies are simultaneously repulsed and weaponized to perpetuate "consent" as the modern sexual ethics. I ground my analysis in the incorporation of corporeality into trans and intersex studies through an exploration of the "trans-intersex nexus" within and beyond the realm of medicine. In this archival study, I revisit the life of a Peking Opera trans actor who lived in Beijing and France during the second half of the 20th century. Based on the theorization of "trans-intersex corporeality," which encapsulates the non-normative and transitioning states of the bodies possessed, (dis)identified, and represented by intersex and trans people and their interplays with material realities, I explore how the generation of consent as modern sexual ethics intertwines with the historical formation of transness. I experimentally envision "liminal-consensual desire" as a radical alternative to the affirmative model of consent. This concept, emerging within the gap between the unknowability and opaqueness of trans-intersex corporeality and the asserted comprehensibility and omniscience of sex and gender by medical and national power, assumes political potential by serving as a form of everyday erotic resistance against medical authority, state power, and the ongoing colonial international order. The paper further investigates the relationship between desire, affect, and transness by focusing on the concept of negativity. By tracing the negative affect of envy both in the archive and in the history of psychoanalysis, I consider envy to be a relevant lens through which to approach transness and examine how the reduction and misinterpretation of trans envy contribute to the contemporary perception of transness as "deception." The paper concludes by addressing the quest of accountability raised by negativity in the context of gendered violence against trans and intersex people.
Presentations
The Skin I Inhabit: Gender Identity and Embodied Practices of Trans Students in China. Annual Conference of the Chinese Sociological Association. Chongqing, China, 2021 July.

Sex and Gender Disparities in Perception, Attitude and Social Intimacy among Sinophone Youth towards Transgender and Gender Nonconforming Individuals: Based on an Internet Survey. The Population Association of America 2023 Annual Meeting. New Orleans, Louisiana, 2023 April.

Trans Visibility, Feminity, and Neoliberal Politics in Post-socialist China. 2023 National Women's Studies Association Annual Conference. Baltimore, Maryland, 2023 October
Selected Works
Feizhou Zhou, Shang Lin, Heng Wang, Sociological Meaning of the "Qualification Right" to Homestead, 2021, Journal of University of Jinan (Social Science Edition), ISSN 1671-3842.
Honours and Awards
2023
David Rayside Graduate Students Award, SDS, University of Toronto
2022
SGS Conference Grant, University of Toronto
2022
Hammed Shahidian Graduate Award in Women and Gender Studies, WGSI, University of Toronto
2022
Women and Gender Studies Admission Award, WGSI, University of Toronto
2022
University of Toronto Fellowship, University of Toronto
2022
Excellent Undergraduate Dissertation, Beijing Municipal Education Commission
2022
Excellent Graduate, Beijing Municipal Education Commission
2022
Excellent Graduate, Peking University
2021
May 4th Scholarship, Peking University
2021
Merit Student Pacesetter, Peking University
2021
Exceptional Award for Academic Innovation, Peking University
2020
The First Prize of Peking University Scholarship, Peking University
2020
Excellent Student Leader, Peking University
2019
Samsung Scholarship, Peking University
2019
Merit Student, Peking University