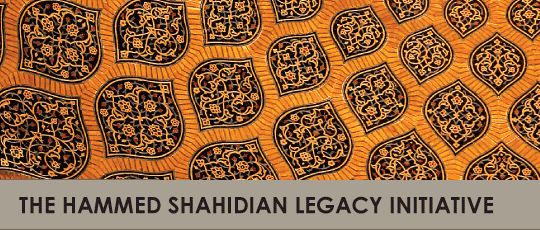 The Hammed Shahidian Graduate Award in Women's Studies
The Hammed Shahidian Lecture Series in Women's Studies
The Women and Gender Studies Institute is the recipient of the Hammed Shahidian Legacy Initiative Fund. This generous endowment is dedicated to both a Graduate Award and a Lecture Series in women and gender studies. The Lecture series will attract some of the world's finest critical feminist scholars and provide a platform for graduate students to engage in debates and discussions on themes that are particularly relevant to the current condition of women internationally.
The untimely death of Professor Hammed Shahidian in October 2005 left the feminist studies and Iranian studies scholarly communities with a huge void.  He was a brilliant intellectual with a profound commitment to social justice.  His scholarship consists of a diverse body of critical literature on social movements, gender, sexuality, ethnicity, exile, immigration and diaspora.  He contributed to debates in all of these areas in North America, Europe and the Middle East.
Professor Hammed Shahidian's books, Women in Iran: Gender Politics in the Islamic Republic (2002, Greenwood Publishing) and Women in Iran: Emerging Voices in the Women's Movement (2002, Greenwood Publishing), are seminal contributions to the highly controversial debates on women in Muslim majority states; he documented and analysed the gender politics of the Islamic state of Iran and women's resistance to theocratic regimes of patriarchy. In his first book, Gender Politics in the Islamic Republic, for example, he undertook a detailed study of institutions such as paid work, domestic labour, law, politics, sexuality, and culture in order to demonstrate the role of state coercion in the construction of gender relations. He demonstrated that despite women's resistance and partial legal reform, the juridical-political order did not visibly change.  This study challenges some feminist theoretical claims, which overemphasize the flexibility of state generally, and the theocratic state, in particular.
In his second book, Emerging Voices in the Women's Movement, Hammed embarked upon another significant theoretical challenge. While cultural relativism is a step forward in so far as it allows more diverse feminist theoretical perspectives and emphasizes the particularity of women's lives, Hammed emphasized its limitations in accounting for patriarchal domination in non-Western, Muslim majority contexts.
Professor Shahidian's feminist research has shaped critical approaches in women's studies of the Middle East. The vast repertoire of his publications, research, lectures and conference presentations around the world on the topic of social movements, feminism, women and revolution, activism, and women's experience of exile indicates his dedication to enhancing theoretical knowledge in these areas.  This is a body of committed research, which promotes that cause of gender equality and justice.  Some of his published articles in this area are first-hand and unique contributions to exilic life and the emerging field of diaspora studies.
Hammed had tireless energy for envisioning new areas of inquiry. As one of his last projects, he encouraged his colleagues to collaborate with him on an anthology of critical studies of secularism and democracy. This research was an effort to make visible an old, yet overlooked, trend in Iranian culture and politics.  He wanted to explore areas of political contestation in Iran waged by writers, youth, and human rights activists that have not yet received adequate research attention.  His proposed book project was the first on this subject and combined theoretical frameworks with personal narratives by secular activists in Iran.  This approach reflects Hammed's emphasis on the study of social movements from below, an approach he took both in his published works and in developing another manuscript on the underground leftist movement in Iran.