Skip to the content

THIS EVENT IS CANCELLED: Family Ties Tour – St. George
March 10, 2015 @ 6:00 am

-

8:00 pm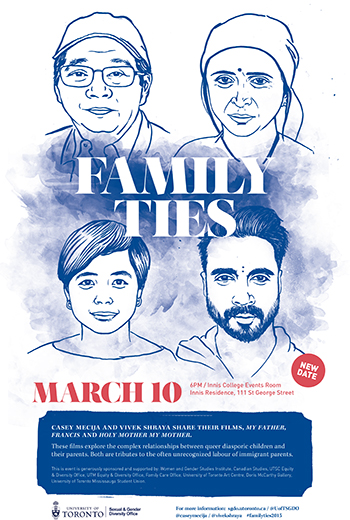 Due to unforeseen circumstances, we need to cancel tonight's Family Ties Tour event. We hope to be able to reschedule for a later date.
Family Ties Tour
Featuring Vivek Shraya and Casey Mecija
The University of Toronto Mississauga is excited to welcome two of Toronto's most engaging artists Casey Mecija & Vivek Shraya for a tri-campus series of events featuring film, music and dialogue.
Casey Mecija and Vivek Shraya share their two short films, My Father, Francis and Holy Mother My Mother. These films explore the complex relationships between queer diasporic children and their parents. They are tributes to the often unrecognized labour of immigrant parents.
We're proud to bring this tour on all three U of T campuses:
This series is presented by the University of Toronto Sexual & Gender Diversity Office and generously sponsored and supported by: Women and Gender Studies Institute, Canadian Studies, UTSC Equity & Diversity Office, UTM Equity & Diversity Office, Family Care Office, University of Toronto Art Centre, Doris McCarthy Gallery, University of Toronto Mississauga Students' Union.
CASEY MECIJA is an accomplished interdisciplinary artist/musician and community organizer. There are two experiences that guide her artistic practice: being a singer/songwriter (Ohbijou/Warm Myth) and her experience as an arts educator. Music has allowed Casey to visit China, Japan, much of Europe, and large and small cities across North America. From these travels she has culled a new grammar of experience that she hopes to craft into music and visual arts. While at home in Toronto, her involvement in arts education programs like Clutch (an arts program for young Filipino women), The Amy Project ("Artists Mentoring Youth" a project that builds confidence and unique voices for young women in performing arts through mentorship), Girls Rock Camp (a music camp for young women), in tandem with her studies in arts education, sociology and equity studies and communication and multimedia studies have helped her to learn that her role as an artist is inextricable from her experiences as a woman of colour. She is also the co-founder of the Friends in Bellwoods music project, which has raised $40,000 and counting for the Daily Bread Food Bank of Toronto. Casey aims to create art that signifies the complexity of her personality and desires. My Father, Francis was her first solo venture into visual arts and short film with which she was recently awarded the WIFT-T Award (Women in Film and Television) at the 2013 International Reel Asian Film Festival. My Father, Francis was also chosen to screen at the 2014 Inside Out Festival in Toronto
VIVEK SHRAYA is a Toronto-based artist working in the media of literature, music, performance, and film. A two-time Lambda Literary Award finalist, Vivek's books—including God Loves Hair, his illustrated collection of short stories—have been used as textbooks at several post-secondary institutions. His debut novel, She of the Mountains, was named one of The Globe and Mail's Best Books of 2014. Winner of the We Are Listening International Singer/Songwriter Award, Vivek has also released albums ranging from acoustic folk-rock to electro synth-pop. His most recent is All of the Lights, an EP of Christmas and Diwali songs. His film What I LOVE about being QUEER has expanded to include an online project and book with contributions from around the world, and was featured on Buzzfeed, the Huffington Post, and ELLE Magazine India. Holy Mother My Mother, his fourth short film, was released in Spring 2014. Vivek has read and performed at shows, festivals and post-secondary institutions internationally, sharing the stage with Tegan & Sara and Dragonette, and has appeared at NXNE, CMW, Word on the Street, Yale, and Columbia University. He was the 2013 Artist-in-Residence at Camp fYrefly Edmonton and the 2014 recipient of the Steinert & Ferreiro Award for leadership in Toronto's LGBTQ community. http://vivekshraya.com/