City of Toronto Women and Gender Studies Scholarship
Recognizing 35 years of improving the status of women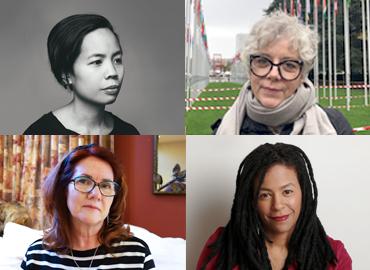 They have become lawyers, activists, university professors and writers, film directors — all feminists with the same powerful mission to improve the status of women. 
For 35 years, the City of Toronto Women and Gender Studies Scholarship (originally called the City of Toronto's Scholarships in Women's Studies) have been empowering Faculty of Arts & Science students.
"This scholarship has been a really important way of recognizing the outstanding work our students are doing and its impact on the worlds outside the classroom and university," says Professor Alissa Trotz, director of the University of Toronto's Women and Gender Studies Institute and a professor in the undergraduate Caribbean Studies Program at New College.  
The scholarships provide much-needed support to "our fierce students whose work tackles critical questions in far-reaching and imaginative ways," says Trotz.
The scholarship was created in 1985 to fill a void in available scholarships for women. After discussions between U of T professor Kay Armatage; Ceta Ramkhalawansingh, a former instructor in U of T's first women's studies course and then-staff in Toronto City Hall's Equal Opportunity Office; and City of Toronto Budget Chief June Rowlands, the scholarship was created in the City's name to commemorate the centenary of women being admitted as students to the university.
In 1997, concerns arose over losing the funds due to the municipal amalgamation. Ramkhalawansingh guided the transfer of funds to the university, who matched the donation. With these additional funds, a scholarship was established at the graduate level.
To date, 34 scholarships have been awarded to undergraduates and 20 have been made to graduate students.
To celebrate this milestone, we share the inspiring stories of some of those recipients here.
As a student in the late-1980s, Amanda Dale was working three jobs and struggling to pay her rent. This scholarship helped launch a successful career in which she's stayed committed to improving the status of women for more than 30 years. Read more here.  
The scholarship lent immediate legitimacy to Cecilia Morgan's passions, providing her with greater motivation to pursue her interests in women's history and feminist research. Read more about how this U of T professor helps ensure women's important role throughout history is recognized.  
For 25 years, film director Dawn Wilkinson has been ensuring women's stories get the attention they deserve on television and the big screen, including most recently for Netflix's Locke and Key. Read more about her approach to keeping women centre screen here. 
The scholarship helped Eva Mackey develop the skills to research and undertake activism — starting with an exploration of women's organizations and gender politics post-liberation in Zimbabwe and continuing in Australia, New Zealand and Canada. Read more about her work in gender, race, colonialism and history here. 
Mara Raposo is making the most of being the first in her family to attend university. Since her undergrad degree at U of T, she's been working to improving schools in the U.K. for disadvantaged youth. Read more about the skills she ultimately plans to bring with her back to Canada. 
Raha Bahreini is using her passion for human rights — and the skills she learned at U of T — to improve the lives of the people of Iran, who are facing oppression, repression and discrimination. Read more about her work with Amnesty International.