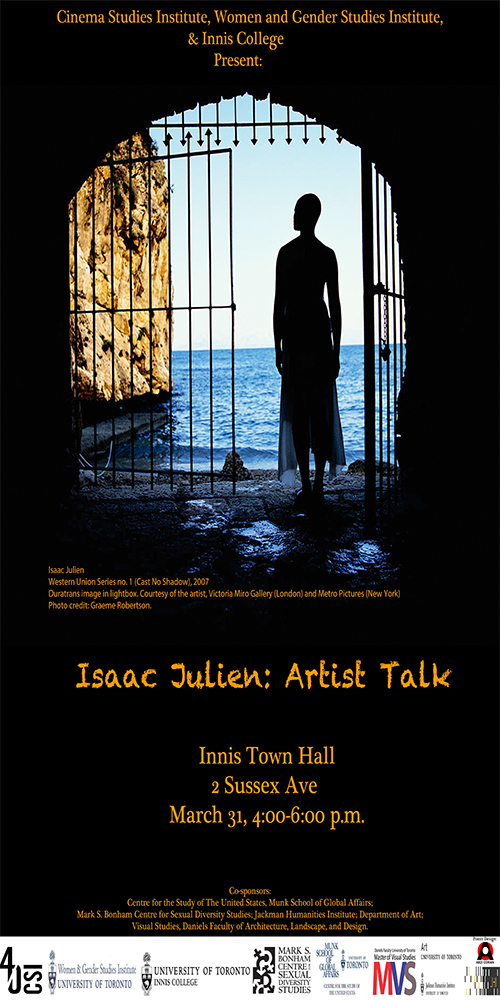 You are cordially invited to attend this rare opportunity to hear world-renowned artist/filmmaker Isaac Julien discuss his body of work and his recent installation Isaac Julien: Other Destinies, currently on exhibit at the Royal Ontario Museum. Known for his poetic and visually encompassing narratives, Julien's oeuvre addresses issues of globalization, mobilities,  and displacement within a geopolitical aesthetic frame.
Isaac Julien is a Turner prize nominated artist and filmmaker. Earlier works include Young Soul Rebels (1991), which was awarded the Semaine de la Critique Prize at the Cannes Film Festival, the acclaimed poetic documentary Looking for Langston (1989) and Frantz Fanon: Black Skin, White Mask (1996). Julien has pioneered a form of multi-screen installations with works such as Western Union: Small Boats (2007), Ten Thousand Waves (2010) and Playtime: Kapital (2014). 
Julien was a participant in the 56th Biennale di Venezia curated by Okwui Enwezor (2015). He has exhibited his work in major museums and institutions across the globe including the nine- screen Ten Thousand Waves at Museum of Modern Art, New York, Foundation Louis Vuitton in Paris, and more recently Playtime and Kapital at El Museo Universitario Arte Contemporáneo in Mexico City. Julien's work is included in the collections of institutions globally.  In 2013, a monographic survey of his career to date, Riot, was published by MoMA, NY.
Julien is currently producing a new work that is a poetic meditation on aspects of the life and architecture of Lina Bo Bardi, entitled 7 Songs for Lina Bo Bardi. The first chapter of this work, Stones Against Diamonds, was shown during 2015's La Biennale di Venezia, Art Basel and Art Basel Miami Beach. Julien was Chair of Global Art at University of Arts London (2014-2016) and is the recent recipient of the the 83rd James Robert Brudner Memorial Prize and Lecture at Yale University (2016).
This event is graciously co-sponsored by the Women & Gender Studies Institute; the Centre for the Study of The United States, Munk School of Global Affairs; Mark S. Bonham Centre for Sexual Diversity Studies; Jackman Humanities Institute; Department of Art; Visual Studies, Daniels Faculty of Architecture, Landscape and Design.