Skip to the content

Against Islamophobia Panel Discussion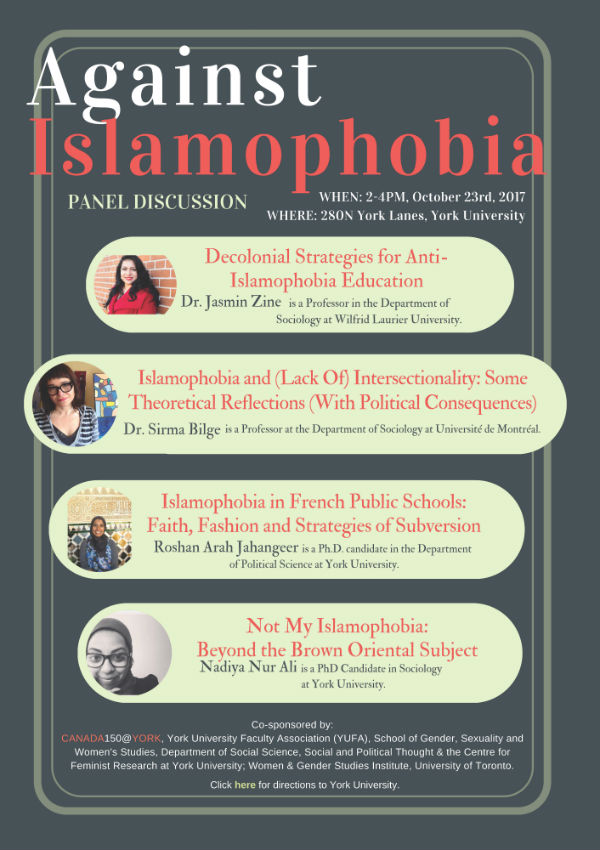 Decolonial Strategies for Anti-Islamophobia Education
Dr. Jasmin Zine is a Professor at Wilfrid Laurier University. She has developed international guidelines for educators and policy-makers on combating Islamophobia and discrimination against Muslims. Dr. Zine is affiliated with the Islamophobia Research and Documentation Project at U.C Berkeley and serves on the editorial board of the critical Muslim Studies journal Re-Orient.
Islamophobia and (Lack Of) Intersectionality: Some Theoretical Reflections (With Political Consequences)
Dr. Sirma Bilge is a Professor at the Department of Sociology at Université de Montréal. She has co-published a book on Intersectionality in the Polity Press, Key Concepts series. Her current research deals with the incorporation of minority knowledge fields within the neoliberal academic industrial complex and the emergence of academic entrepreneurial, as well as resistant subjectivities.
Islamophobia in French Public Schools: Faith, Fashion and Strategies of Subversion
Roshan Arah Jahangeer is a Ph.D. candidate in the department of Political Science at York University, and a research fellow at the Tessellate Institute, a Toronto-based research institute that explores and documents the lived experiences of Muslims in Canada.
Not My Islamophobia: Beyond the Brown Oriental Subject
Nadiya Nur Ali is a PhD Candidate in Sociology at York University, specializing in Critical Race, Critical Muslim Studies and Social Theory. Nadiya has been part of a range of community-based research initiatives in the GTA – Including The Black Experience Project and currently part of a multi-city Migrant Resilience research initiative.
Co-sponsored by:
Canada150@York, York University Faculty Association (YUFA), School of Gender, Sexuality and Women's Studies, Department of Social Science, Social and Political Thought & the Centre for Feminist Research at York; Women & Gender Studies Institute, University of Toronto.