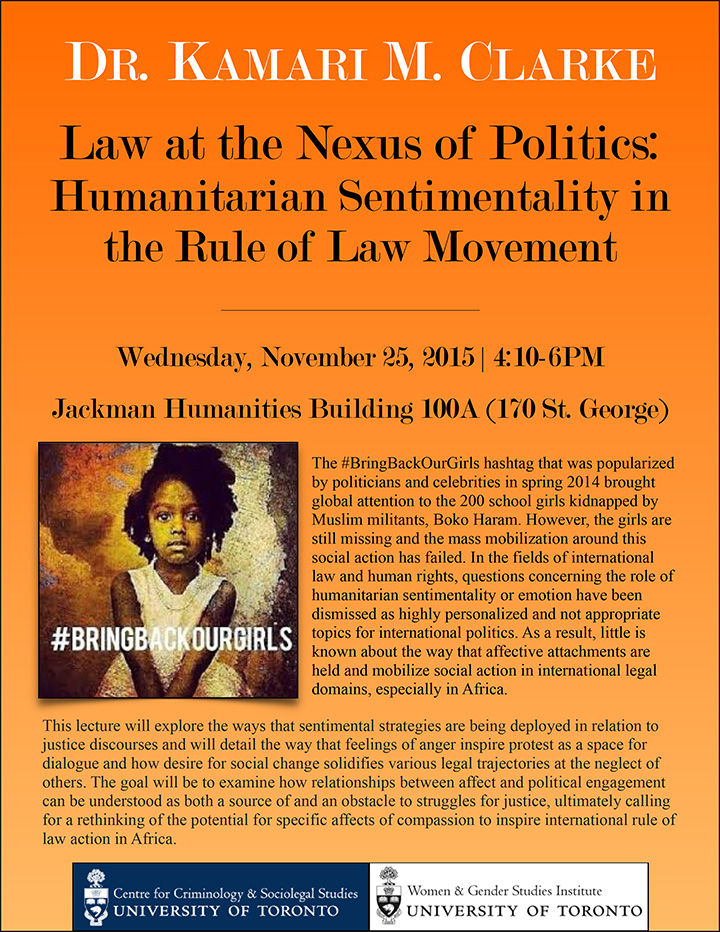 The #BringBackOurGirls hashtag that was popularized by politicians and celebrities in spring 2014 with global attention brought to the 200 school girls kidnapped by Muslim militants, Boko Haram. However, over the past year and a half there have been subsequent attacks killing thousands of victims.  The girls are still missing and the mass mobilization around this social action – including the leadership of first lady Michelle Obama – has failed. In the fields of international law and human rights, questions concerning the role of humanitarian sentimentality or emotion have been dismissed as highly personalized and not appropriate topics for international politics. Some have presumed that sentiments emerge out of individual spaces of emotion and feeling. And some have defined African non-compliance with treaty norms as simply instrumental, arguing for realist assessments of decision-making. They have insisted that forms of resistance to various international treaty demands are merely part of the play of lawmaking or attempts by the African elite to escape criminal accountability. In that regard, many insist that it is important to focus on the law, in its strictest sense, or that international law and human rights scholarship should focus on the central goal of "saving African victims" like "the girls of the Boko Haram attack" and not the politics of emotion connected to it.  While these various responses have their merit, it is clear that little is known about the distribution of sentiment and the production of legal and political subjectivities as they relate to international decision-making and humanitarian sentiment. This is especially the case in relation to understanding the way that affective attachments are held and mobilize social action in international legal domains, especially in Africa.
This lecture will explore the ways that sentimental strategies are being deployed in relation to justice discourses and will detail the way that feelings of anger inspire protest as a space for dialogue and how desire for social change solidifies various legal trajectories at the neglect of others. The goal will be to examine how relationships between affect and political engagement can be understood as both a source of and an obstacle to struggles for justice, ultimately calling for a rethinking of the potential for specific affects of compassion to inspire international rule of law action in Africa.
Kamari M. Clarke – is a professor of Global and International Studies at Carleton University. Over the past fourteen years she was a Professor of International and Area Studies at Yale University and Senior Research Scientist at the Yale Law School and has lectured widely throughout various United States, Canada, Europe, Africa and the Caribbean. She has conducted research in various legal domains in international criminal tribunals, and international law training sessions in Ireland, London, Geneva, Banjul, The United Nations and beyond. Her research explores issues related to social and political theory, legal pluralism, international law, and the interface between legal institutions and the related production of knowledge and power.