Skip to the content

Robert A. Hill – And Still We Rise: A New Generation of Black Students Arises for a New Time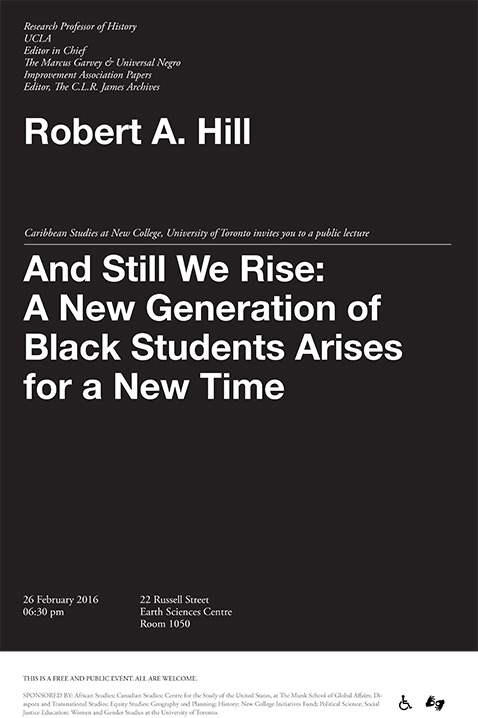 A graduate of the University of Toronto and the University of the West Indies, Robert A. Hill is Research Professor of History at UCLA and Editor in Chief of the multivolume edition of The Marcus Garvey & Universal Negro Improvement Association Papers, a multi-volume long-term research project of the James S. Coleman African Studies Center at UCLA. Professor Hill is also the Literary Executor of the Estate of C. L. R. James and the editor of the multi-volume edition of The C. L. R. James Archives published by Duke University Press.
Sponsors: Anti-Racism and Cultural Diversity Office; African Studies; Canadian Studies; Centre for the Study of the United States, at the Munk School of Global Affairs; Diaspora and Transnational Studies; Equity Studies; Geography and Planning: History; New College Initiatives Fund; Political Science; Social Justice Education; Women and Gender Studies
THIS IS A FREE AND PUBLIC EVENT. ALL ARE WELCOME.
WHEELCHAIR ACCESSIBLE. ASL PROVIDED.