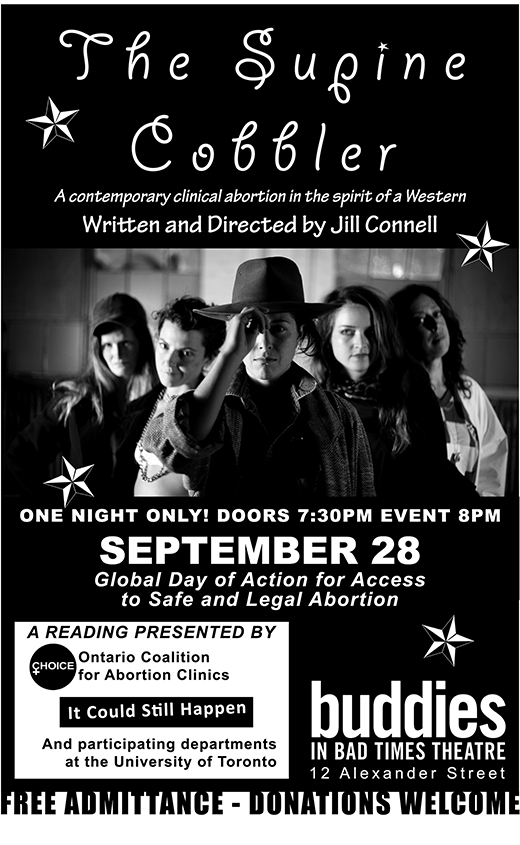 After two successful runs in Toronto and Edmonton, the Ontario Coalition for Abortion Clinics is pleased to co-sponsor a reading of Jill Connell's The Supine Cobbler – a play about the experience of clinical abortion, set in the spirit of a Western.
The reading will be at Buddies in Bad Times Theatre on 28 September, the Global Day of Action for Access to Safe and Legal Abortion. Co-sponsors and producing theatre company It Could Still Happen see this event as an opportunity to bring feminist communities together to raise awareness about Canadian abortion politics and celebrate outsiderness and the transgression of gender norms.
Doors open at 7:30pm.  The reading will begin at 8:00pm followed by a Q&A and cash bar at 9:30pm.
The event is free.
This event is also co-sponsored by the OPSEU Provincial Women's Committee and select departments at the University of Toronto: the Women & Gender Studies Institute, the Mark S. Bonham Centre for Sexual Diversity Studies, and the Centre for Drama, Theatre and Performance Studies.
A note from the playwright/director, Jill Connell:
I grew up watching Westerns, especially the revisionist Westerns. I studied anti-heroes and outsiders. I loved Kurosawa and Sergio Leone and Cormac McCarthy. For a long time I wanted to be a man when I grew up. I wanted to be a person with a story.
Westerns are gritty and unapologetic when it comes to life and death, and I wanted to take this classic male storytelling genre and tell a hero myth for girls. Abortion is a prevalent procedure that exists largely unseen. I found it to be a powerful action that involved a reckoning with the self, yet was very much in relationship to others, and to society. We live in lawless times. Things are exquisite and devastating and totally normal. This is the experience I have tried to capture.