Skip to the content

WGS Research Seminar
March 21, 2018 @ 4:00 pm

-

6:00 pm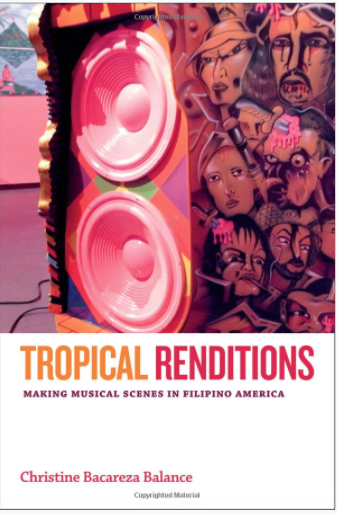 Making Musical Scenes in Filipino America and Beyond
Disobedient listening – or listening against – is a method to denaturalize tropes surrounding popular music and its study. Disobedient listening requires a phonographic approach, one that attends to where the sonic, visual, literary, and bodily intersect. Disobedient listening not only aims to uncover cultural truths or right the wrongs of previous scholarship. It aims to help us hear differently what popular music, its performance and reception, produces.
This talk opens with a discussion of disobedient listening and how it helped me to arrive at an understanding of Filipino/Filipino American musical events as 'tropical renditions'—that is to say, performances that work within and against common racialized tropes of Filipinos, that turn our attention to particular histories of cultural transfers and renderings, and that are produced by and productive of places deemed "the tropics." It moves on to share my own background—as an artist, scholar, and community/events organizer—and the ways it informs my first book project, Tropical Renditions: Making Musical Scenes in Filipino America, and my next book project, Afterlives of Martial Law. In what ways does the multidisciplinary field of performance studies allow for various research methods (ethnographic, close reading/listening, archival, for example) and various means of being an embodied and engaged scholar? In the end, I look forward to a broader dialogue, with graduate students and faculty, about building one's own archives and intellectual communities, as well as ways to critically consider artists' own political engagement with history, migration, authoritarianism, and forms of power.

Christine Bacareza Balance is Associate Professor of Asian American Studies and Gender & Sexuality Studies (UC Irvine). Her first book Tropical Renditions: Making Musical Scenes in Filipino America examines how post-World War II Filipino and Filipino American popular music composes Filipino identities, publics, and politics. Her next book project, The Afterlives of Martial Law, investigates the sensational politics enacted by Ferdinand and Imelda Marcos' 21-year rule over the Philippines and the ways in which artists resist and remember in its historical aftermath. She was recently awarded a UCHRI (UC Humanities Research Institute) Engaged Humanities grant for a multi-site, multi-program public partnership with Visual Communications (VC), a Los Angeles-based Asian American media arts organization, to digitally preserve archival materials and present public programs that document the history of Philippine martial law and its impact upon Los Angeles-based communities. Balance's previous writings on Asian American YouTube artists, Bruno Mars, Glee's karaoke aesthetics, Imelda Marcos, and spree killer Andrew Cunanan have been published in various academic and online journals. She continues to collaborate with Prof. Lucy San Pablo Burns (UCLA) on the artistic/scholarly anthology, California Dreaming: Movement & Place in the Asian American Imaginary (University of Hawai'i Press, forthcoming). She is a proud board member of KulArts, a San Francisco-based traditional and contemporary Filipino arts presenter and community-based organization, and one-eighth of the New York-based indie rock band, The Jack Lords Orchestra.
Co-sponsors – WGSI and Sexual Diversity Studies, University of Toronto