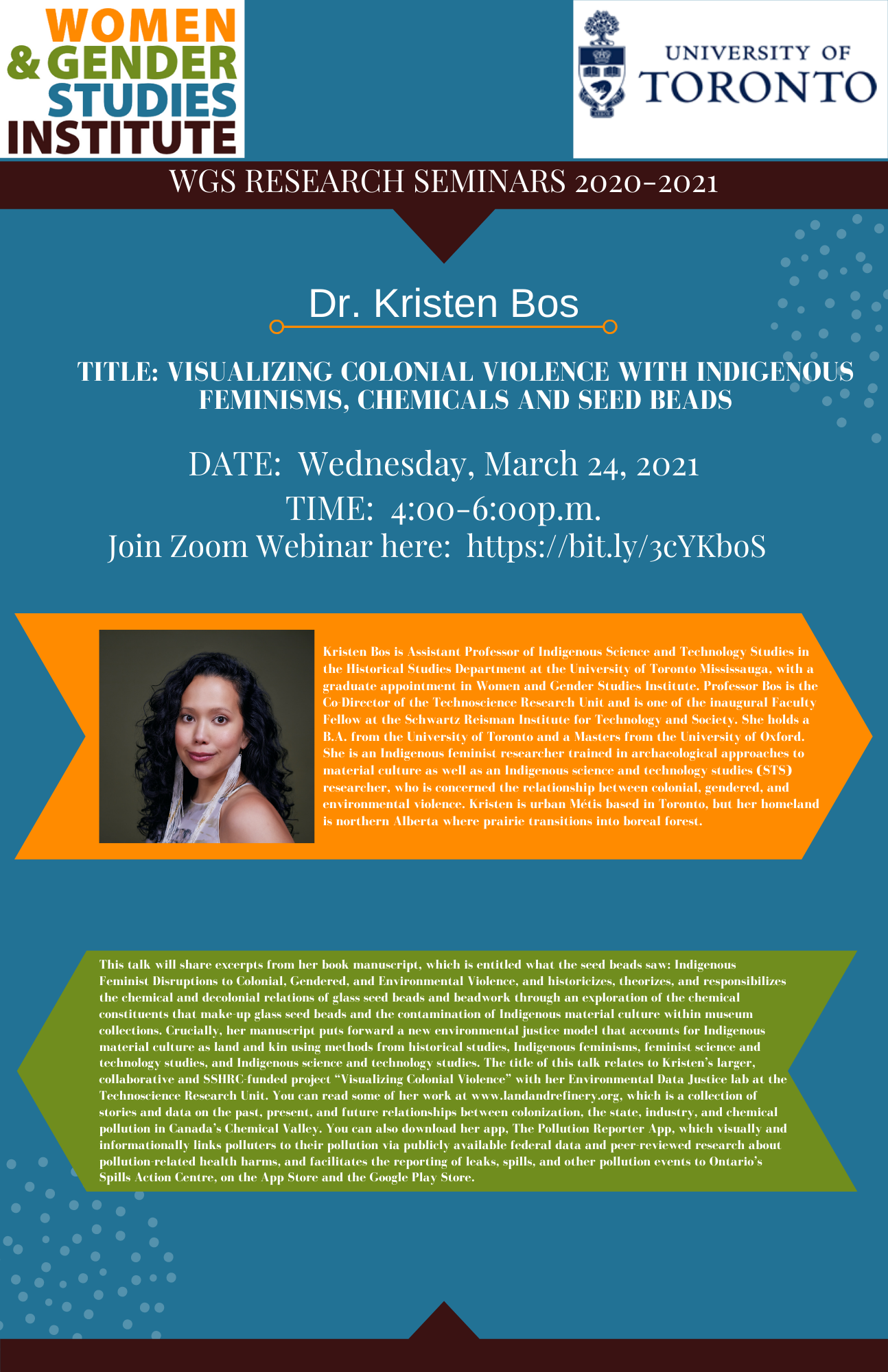 Title: Visualizing Colonial Violence with Indigenous Feminisms, Chemicals and Seed Beads 
Kristen Bos is Assistant Professor of Indigenous Science and Technology Studies in the Historical Studies Department at the University of Toronto Mississauga, with a graduate appointment in Women and Gender Studies Institute. Professor Bos is the Co-Director of the Technoscience Research Unit and is one of the inaugural Faculty Fellow at the Schwartz Reisman Institute for Technology and Society. She holds a B.A. from the University of Toronto and a Masters from the University of Oxford. She is an Indigenous feminist researcher trained in archaeological approaches to material culture as well as an Indigenous science and technology studies (STS) researcher, who is concerned the relationship between colonial, gendered, and environmental violence. Kristen is urban Métis based in Toronto, but her homeland is northern Alberta where prairie transitions into boreal forest. 
 This talk will share excerpts from her book manuscript, which is entitled what the seed beads saw: Indigenous Feminist Disruptions to Colonial, Gendered, and Environmental Violence, and historicizes, theorizes, and responsibilizes the chemical and decolonial relations of glass seed beads and beadwork through an exploration of the chemical constituents that make-up glass seed beads and the contamination of Indigenous material culture within museum collections. Crucially, her manuscript puts forward a new environmental justice model that accounts for Indigenous material culture as land and kin using methods from historical studies, Indigenous feminisms, feminist science and technology studies, and Indigenous science and technology studies. The title of this talk relates to Kristen's larger, collaborative and SSHRC-funded project "Visualizing Colonial Violence" with her Environmental Data Justice lab at the Technoscience Research Unit. You can read some of her work at www.landandrefinery.org, which is a collection of stories and data on the past, present, and future relationships between colonization, the state, industry, and chemical pollution in Canada's Chemical Valley. You can also download her app, The Pollution Reporter App, which visually and informationally links polluters to their pollution via publicly available federal data and peer-reviewed research about pollution-related health harms, and facilitates the reporting of leaks, spills, and other pollution events to Ontario's Spills Action Centre, on the App Store and the Google Play Store.