Shahrzad Mojab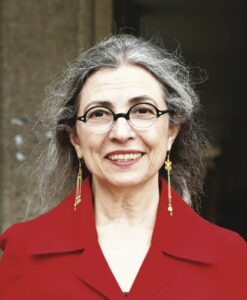 Biography
Shahrzad Mojab, scholar, teacher, and activist, is internationally known for her work on the impact of war, displacement, and violence on women's learning and education; gender, state, migration and diaspora; Marxist feminism and anti-racism pedagogy. She is professor of Adult Education and Community Development and Women and Gender Studies at the University of Toronto. She is the former Director of Critical Studies in Equity and Solidarity and the Women and Gender Institute, University of Toronto. Shahrzad is the recipient of the 2020 Canadian Association of Studies in Adult Education Lifetime Achievement Award and the Royal Society of Canada Award in Gender Studies in 2010.
She is the editor of the book series with Peter Lang on Kurdish People, History and Politics and is on the editorial board of the Routledge Teresa Ebert and Mas'ud Zavarzadeh Books in Marxist Social and Cultural Theory and the Encyclopedia of Women and Islamic Cultures. She has been the guest editor of the special issue of Comparative Studies of South Asia, Africa, and the Middle East Journal and International Journal of Lifelong Education.
Her recent books include: Marxism and Migration (co-edited with Genevie Ritchie and Sara Carpenter, forthcoming); Women of Kurdistan: A Historical and Bibliographical Study (co-authored with Amir Hassanpour, 2021); Revolutionary Learning: Marxism, Feminism and Knowledge (co-authored with Sara Carpenter, 2017); Youth as/in Crisis: Young People, Public Policy, and the Politics of Learning (co-edited with Sara Carpenter, 2017); Marxism and Feminism (editor, 2015); Educating from Marx: Race, Gender and Learning (co-edited with Sara Carpenter, 2012); Women, War, Violence, and Learning (editor, 2010); Violence in the Name of Honour: Theoretical and Political Challenges (co-edited with Nahla Abdo, 2004); Of Property and Propriety: The Role of Gender and Class in Imperialism and Nationalism (c-edited with Himani Bannerji and Judith Whitehead, 2001); and Women of a Non-State Nation: The Kurds (editor, 2001).
A unique feature of Shahrzad's work is making knowledge accessible to public through the use of arts such as story-telling, dance, drama, painting and film. Her most recent Social Science and Humanities Research Council research projects were Youth in Transition: War, Migration, and 'Regenerative Possibilities' and The Pedagogy and Policy of Refugee Youth Resettlement. The Ontario Arts Council funded her project with Roshanak Jaberi and Doris Rajan, No Woman's Land, a dance project to capture the experience of refugee women of sexual violence. She has archived and curatted the experience of women in prison in the Middle East in the website, The Art of Resistance in the Middle East: http://www.womenpoliticalprisoners.com. Marx & I is her recent radical pedagogy collective production: https://www.youtube.com/watch?v=npBPi4Ko9Ro
Teaching