Adriana M. Pérez-Rodríguez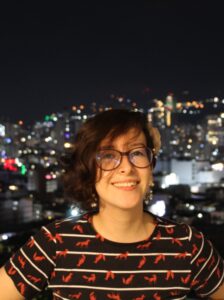 PhD Student
Areas of Interest
Transnational feminism, Diaspora studies (Colombo-Venezuelan), Critical border studies, Sexual borders, Sexual citizenship, Governance politics and securitization in the Colombo-Venezuelan migrant context, and Nationalism and creation of otherness
Biography
I am Colombian feminist researcher who was born in Cúcuta, Norte de Santander, a border region with Venezuela. I studied BA Politics and International Relations at the University of Reading, England, where I lived for 4 years to then return to my country to do an MA in Gender Studies at the National University of Colombia. In 2019 I returned to Cúcuta where I created the Observatory de Asuntos de Género de Norte de Santander (Observatory of Gender Issues of Norte de Santander), a civil society organisation dedicated to feminist research and knowledge production, I directed it for 2 years and a half in the midst of several humanitarian crisis due to the aggravation of the internal armed conflict, the localised violent consequences of the international war on drugs, the collapse of the diplomatic relations between Colombia and Venezuela and the challenges of the Venezuelan diaspora movement into Norte de Santander.
Program: PhD 2022
Education
2012: BA Politics & International Relations – University of Reading, England.
2017: MA Gender Studies – National University of Colombia.
Dissertation
Supervisor: Alissa Trotz and Michelle Murphy
Presentations
TEDx Talk "El feminismo es como una enredadera" (Feminism Is Like a Climbing Plant), 2022

IX Interamerican Congress Against Human Trafficking, organised by Lawyers Without Borders. Invited speaker: "Human Trafficking in the Context of Human Mobility: a Human Rights-Based Approach". Bogotá, Colombia, 2022

Venezuelan Migrants in Colombia: an Inclusive Humanitarian Response? Organised by the Humanitarian Practice Network. Invited panelist: "Gender-Based and Feminist Approaches in the Context of Venezuelan Migration in Norte de Santander," 2022
Selected Works
"Gender-Based Violence in a Migrant Context: a Case Study of Norte de Santander" in Humanitarian Exchange Magazine (2022), issue 80.
"Reclaiming their Right to Appear: the Gender Studies Research Group, from the Free University of Colombia, as Maker of Oppositional Knowledge" in Pérez & Trujillo-Barbadillo (ed.) (2020) Queer Epistemologies in Education. Luso- Hispanic Dialogues and Shared Horizons.
Palgrave Macmillan. eBook ISBN: 978-3-030-50305-5 Print ISBN: 978-3-030-50304-8 "Diferencia indisociable: construcción de la diferencia en juventudes cucuteñas, Colombia, desde la clase y el género" in Alteridades Journal (2019), issue 57. ISSN: 2448-850X
Honours and Awards
2022
2022
FAS doctoral recruitment awar
2022
Connaught International Scholarship for Doctoral Students