D. Alissa Trotz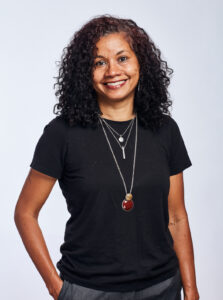 Areas of Interest
Transnational feminist studies
Caribbean Studies with a focus on radical intellectual traditions and feminist political economy
Transnational migration and diaspora
Social movements
Political violence
History, memory and archives
I welcome applications from students interested in researching topics related to Caribbean Studies; social reproduction; transnational migration and diaspora; social movements and feminist activism; the black radical tradition.
Biography
Alissa Trotz is a Professor of Caribbean Studies at New College and the Director of Women and Gender Studies. She is also affiliate faculty at the Dame Nita Barrow Institute of Gender and Development Studies at the University of the West Indies, Cave Hill, Barbados; and a member of the O'Neill-Lancet Commission on Racism, Structural Discrimination, and Global Health. She is a resource person with Red Thread Women's Organization in Guyana and editor of "In the Diaspora," a weekly newspaper column in the Guyanese daily, Stabroek News. Alissa's work is situated within a tradition of feminist political economy, and a Caribbean feminist tradition in particular, that takes an intersectional approach to social reproduction as a starting point and node of interrogation to think through histories and processes of dispossession and their contemporary manifestations. Her research trajectory unfolds across related themes that address processes of social reproduction, neoliberalisation & Caribbean feminisms; coloniality, racial formations, gendered difference and violence; transnational migration, remittances and diaspora engagement; and Caribbean knowledge production.
Her current research looks at diaspora, indigeneity and extractivism in colonial Guyana. A consistent thread – and method – is to track local, regional and transnational strategies of survival/survivance that are prompted by localized insecurities, the deep and everyday injuries of neoliberalism. What does it mean to hold space open for imagining what insurgent knowledges might emerge when we attend closely to what sociologist and Caribbeanist Cecilia Green describes as the "nooks and crannies and living networks of the popular and domestic economy and its creative potential," the deeply gendered practices that make heartbreakingly visible the violence of capitalism and sovereignty, all while still stubbornly reaching for other, affirming models of human-ness and value?
Education
PhD, Social and Political Sciences, Cambridge University, 1995
Selected Works
"The Conspiracy of Mutual Caring" on Andaiye's Writings with Alissa Trotz." Millennials Are Killing Capitalism, publisher, September 11, 2023. https://millennialsarekillingcapitalism.libsyn.com/the-conspiracy-of-mutual-caring-on-andaiyes-writings-with-alissa-trotz
Bulkan, Janette, Kempadoo, Roshini and Trotz, D. Alissa. 2023. Guyana's Oil Dorado. NACLA – Report on the Americas. 55 (3): 286-293.
Trotz, Alissa. 2023. "From the Roof to the Plate: Reading Andaiye in Brazil." In the Diaspora Column, Stabroek News, May 31.
Alissa Trotz. "How Will We Organise to Live? Andaiye's Radical Praxis. Black Women Theorizing the Americas. Christen Smith and Lorraine Leu (editors). Texas: University of Texas Press (forthcoming, December 2023).
Alissa Trotz & Nigel Westmaas. 2023. "Insurgent Knowledges: Reading HEUA alongside the rupture in Guyana." Small Axe special issue on the 50th anniversary of How Europe  Underdeveloped Africa (forthcoming November 2023)
Trotz, Alissa. 2023. "A Whole World Was In Her Face: Honouring Places Beyond Maps." TOPIA: Canadian Journal of Cultural Studies, 46: 56-65.
Trotz, Alissa and Bulkan, Arif. 2021. Oil Fuels Guyana's Internecine Conflict. Current History, February, 71-77
Trotz, D. Alissa. (Ed.). 2020. The Point is to Change the World: Selected Writings by Andaiye. London: Pluto Books, Black Critique Series. (translated 2022,  O importante é transformar o mundo, Brazil: Editora Funilaria).
Andaiye. 2020. (Edited by D. Alissa Trotz).The Power Relations in the Personal and the Conspiracies of Mutual Caring We Organize to Fight Them. (11 September 1942-31 May 2019), Scholar and Feminist Online 16 (1).
Bulkan, Arif and D. Alissa Trotz (eds). 2019. Unmasking the State: Politics, Economy and Society in Guyana, 1992-2015. Edited Book Collection, 524 pages, Kingston, Jamaica: Ian Randle Press
Trotz, D. Alissa. 2018. "Gaiutra Bahadur's Coolie Woman: Intimacies, Proximities, Relationalities." Small Axe: A Caribbean Journal of Criticism, 56 (7): 219-231.
Trotz, D. Alissa. 2017. "'Far from Home but Close at Heart': Preliminary Considerations on Regional Integration, Deterritorialization and the Caribbean Diaspora." Pan-Caribbean Integration: Beyond CARICOM. Edited by Patsy Lewis, Terri-Ann Gilbert & Jessica Byron, 187-205. London: Palgrave Macmillan.
Trotz, D. Alissa, Kiran Mirchandani, and Iman Khan. 2016. "Growing Downhill? Contestations of Sovereignty and the Creation of Itinerant Workers in Guyanese Call Centres." Borders in Service: Enactments of Nation in Transnational Service. Edited by Kiran Mirchandani and Winifred Poster, 58-85. Toronto: University of Toronto Press.
Mullings, Beverley and D. Alissa Trotz. 2016. "Engaging the Diasporas: An Alternative Paradigm from the Caribbean." New Rules for Global Justice: Structural Redistribution in the Global Economy. Edited by Jan Aart Scholte, Lorenzo Fioramonti and Alfred G. Nhema, 43-56. NY: Rowman and Littlefield.
Trotz, Alissa. 2015. "Inescapable Entanglements: Notes on Caribbean Feminist Engagement." 20th Anniversary Keynote Address. Caribbean Review of Gender Studies Issue 9, 179–194
Trotz, D. Alissa. 2014. "Sexual violence and the state in Guyana: Reflecting on the Colwyn Harding case." Special issue of Caribbean Review of Gender Studies on Caribbean Masculinities Issue 8: 351-363.
Trotz, D. Alissa. 2014. "'Lest We Forget': Terror and the Politics of Commemoration in Guyana'". In a Far Country: Women of Colour and the War on Terror. Edited by Sherene Razack and Suvendrini Perera. Toronto: University of Toronto Press
Trotz, D. Alissa and Beverley Mullings. 2013. ''Transnational migration, the state and development: Reflecting on 'The Diaspora Option." Small Axe: A Caribbean Journal of Criticism (Special Issue on the futures of Caribbean Studies) 17 (2, 41): 154-171
Trotz, D. Alissa. 2011. "Bustling across the Canada-US border: Gender and the remapping of the Caribbean across place." Small Axe: A Caribbean Journal of Criticism (35): 59-78
Trotz, D. Alissa. 2010. "Shifting the ground beneath us: Social reproduction, grassroots women's activism and the 2005 floods in Guyana." Interventions: Journal in Postcolonial Studies, 12(1): 112-124.
Honours and Awards
2018
2016
University of Toronto Faculty Association Academic Citizenship Award, with Professor Deborah Cowen (Geography), for organizing 'The List'  Monthly Salon for the University of Toronto faculty and friends   
2013
Appointed to President's Teaching Academy, University of Toronto, for Excellence in Teaching
2010
Outstanding Teaching Award, Faculty of Arts & Science 
2007
University of Toronto Students' Union/Association of Part-Time Undergraduate Students Undergraduate Teaching Award
Award for distinguished contribution to graduate teaching, Ontario Institute for Studies in Education, University of Toronto 
Teaching
Graduate Courses:
WGS5001H S Feminist Theories, Histories, Movements II: Methods.