Jordache A. Ellapen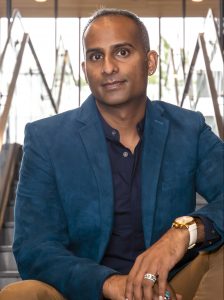 Areas of Interest
Gender and Sexuality Studies
Afro-diasporic Aesthetic Practices
Queer African Studies
Black Queer Studies
Afro-Asian Studies
Queer Diasporas
Race and Eroticism
Queer of Color Critique
Race and Racial Formations
American Studies
Postcolonial Studies
Critical Theory, Visual Culture
My research interests focus primarily on the intersections between aesthetic practices, race and racial formations, and transgressive sexuality and erotics in the African and Indian diasporic contexts. My current research and publications theorize the relationships between cultural politics and political culture in South Africa and the diaspora. My research and teaching focus on black and African feminist and queer studies, transnational sexuality studies, queer diaspora studies, and race and racial formations, with a particular interest in the global South and diasporic communities in North America and Europe.  
I am happy to receive inquiries form students interested in any of these research areas. 
Biography
Jordache A. Ellapen is an Assistant Professor of Feminist Studies in Culture and Media in the Women and Gender Studies Program in the Department of Historical Studies at UTM and holds a graduate appointment in the Women and Gender Studies Institute. He is currently working on a book manuscript tentatively titled Against Afronormativity: Queering Afro-Asian Intimacies, Sticky Erotics, and the Aesthetics of Race in South Africa, which traces the ways in which brown (Indian/South Asian) and black women and queer South African artists employ abjection and erotics as a disruptive aesthetic strategy to critique the formation of new normativities of race, class, gender, sexuality, and erotics after 1994. By examining a visual culture archive that includes film, photography, performance, and other fine art practices he argues that artist-activists mobilize "sticky erotics" to critique the linear and heteronormative underpinning of the post-apartheid nation and sanctioned form of blackness. Through the heuristic of "sticky erotics," this book also traces counterintuitive forms of Afro-Indian intimacies in a context where the Indian is constantly produced as "alien-other" and therefore not entitled to "enjoy" the new nation, whilst heteronormative formations of blackness are mobilized to define the authentic national subject in the contemporary period. His research eschews disciplinary boundaries in a quest to produce new frameworks and methods to understand the production and intersections of race, gender, sexuality, and the erotic in the era of neoliberal capital.  
Before joining the faculty at the University of Toronto, Jordache A. Ellapen was assistant professor at the University of Oregon and postdoctoral research fellow in the Department of African and African American Studies at Washington University in St. Louis. He has also been the recipient of the Ford Foundation International Fellowship Program, a Social Science Research Council Fellowship, and his practice-based research has been supported by the National Arts Council of South Africa. 
Education
Ph.D. American Studies, Indiana University, Bloomington 
M.A. Cinema Studies, New York University 
M.A. Dramatic Art, University of the Witwatersrand 
B.A. Dramatic Art, University of the Witwatersrand 
Selected Publications
Edited Collections: 
we remember differently: Race, Memory, Imagination

(UNISA Press, 2012)

 

"Cinema in Post-apartheid South Africa: New Perspectives," edited by

Jordache

A.

Ellapen

and

Haseenah

Ebrahim.

Black Camera: An International Film Journal

(Spring 2018)

 
Recent publications include: 
"Geographies of the Black African Masculine in

Tsotsi

and

The Wooden Camera"

(in

Black Camera: An International Film Journal

9:2, 2018);

 

"Queering the Archive: Brown Bodies in Ecstasy, Visual Assemblages and the Pleasures of Transgressive

Erotics

" (in

Scholar and Feminist Online

14:3, 2018);

 

"

When the Moon Waxes Red

: Afro-Asian Feminist Intimacies and the Aesthetics of Indenture," (in

Small Axe: A Caribbean Journal of Criticism

21:2, 2017).

 
Honours and Awards
2018-2019
JHI-Mellon Early Career Faculty Fellow at the University of Toronto. 
Teaching
Undergraduate Courses:
Theories in Women and Gender Studies
Political Aesthetics and Feminist Representation
Diasporic Sexualities
Queer African Studies 
Graduate Courses:
WGS1010: Race, Sex, Pleasure