Reese Carr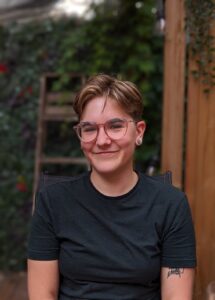 Areas of Interest
Trans and Queer Studies
Ethics of Care
Community Organizing and Education
Kinship
Biography
Reese Carr (they/them) is a PhD student in the Women and Gender Studies program. They recently completed their master's in WGS at the University of Toronto. Their master's project sought to understand the current state of trans parent support services across Canadian provinces. Engaging with critical trans concepts such as erasure and invisibility as explored by V. Namaste (2000) and radical care theorizations outlined by J. Tronto (1993), Reese explores how cis-repronormativity and child-centric ideology has shaped current family services and the ongoing erasure of transgender parent's needs. Their doctoral work continues to question how policy, reproductive technologies and activism influence the desires and imaginings around 'queer' kin formations. Reese's passions and curiosities are rooted in their experiences in queer and feminist activist communities.
Program: PhD 2021
Education
MA, University of Toronto (2021)
BA, University of Western Ontario (2020)
Dissertation
Title: Imagining Family Futures of Refusal and Ambiguity
Supervisor: Judith Taylor
Presentations
"I don't have infertility issues, so where do I fit in here?": Queer women's experiences seeking Assisted Human Reproduction (AHR) in the heteronormative fertility industry. RHO20 The Current, Rainbow Health Ontario, Niagara Falls, April 2020.
Honours and Awards
2021
Faculty of Arts & Science Top (FAST) Doctoral Fellowship, University of Toronto
2020-2021
2020
Gold Medal Honors Specialization in Women's Studies, University of Western Ontario, June 2020