Robyn Maynard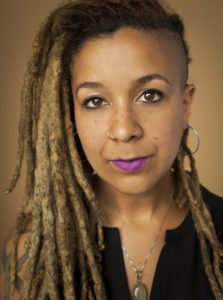 Areas of Interest
Black Political Thought
Black Social Movements
Carceral Studies
Border Studies
Abolition
Transnational Black Feminisms
Black Radical Tradition
Biography
Robyn Maynard is a Toronto-based writer and scholar. Her wide-ranging body of work on policing, abolition and Black liberation has received a number of prominent nominations and awards, has been translated into multiple languages, and is taught widely across universities in Canada, the US and Europe.  She is a Vanier scholar, the winner of the SSHRC Talent Award, and holds a Faculty of Arts & Science Top Doctoral (FAST) fellowship at the University of Toronto where she is studying transnational Black liberation and borders. Maynard's most well-known work is Policing Black Lives: State violence in Canada from slavery to the present, a national-bestseller. It was named "best book of the year" by The Globe and Mail, The Walrus, and The Hill Times, shortlisted for an Atlantic Book  Award, the Concordia University First Book Prize and the Mavis Gallant Prize for Non-fiction, and is the winner of the 2017 Annual Errol Morris Book Prize. Its French translation (by Catherine Ego) is the winner of the 2019 Prix de Libraires, and excerpts from the text are being translated into German in a forthcoming Abolition Reader (Abolitionismus Ein Reader (eds. Daniel Loicke and Vanessa E. Thompson). Maynard has refereed works published in TOPIA, Critical Ethnic Studies, Scholar and Feminist, Canadian Women's Studies, Atlantis, and an assortment of anthologies, and publishes regularly in trade publications like the Toronto Star and Washington Post. Her latest work is Rehearsals for Living, co-authored with Leanne Betasamosake Simpson, forthcoming in June 2022 with Knopf (Canada), Haymarket: Abolition Paper Series (US) and Memoire D'encrier (French translation).
Program: PhD, 2018
Education
BA, McGill University 
Dissertation
Title: TBA
Supervisor: D. Alissa Trotz
Presentations
Title TBA. Imperial Intimacies. (April 24-25, 2020). Invited speaker. Yale University, Boston, MA.

Resisting Gendered State Violence Across Turtle Island: Cross-Border Solidarity Against Anti-Blackness, a conversation with Robyn Maynard. (2019, April). Barnard College, New York, NY.

"Policing Black Lives". (2018, November).  Movements for Black Lives: An Insider's View, Transnational Perspective and a Historical Analysis. Presidential session. National Women's Studies Association (NWSA), Atlanta, GA.
Selected Publications
Books:
Forthcoming   Maynard, R. & Simpson, L.B., Rehearsals for Living. Knopf (Ed. Lynn Henry, Canada) Haymarket: Abolition Paper Series (Ed. Naomi Murokawa, (US/UK), Memoire D'encrier (French translation).
2017.  Policiing Black Lives:   State Violence in Canada from Slavery to the Present.  Halifax:  Fernwood.
Peer reviewed articles
2020   Police abolition/Black revolt. TOPIA: Canadian Journal of Cultural Studies. 41, Fall. Special Issue: Our COVID Conjuncture: Critical Essays on the Pandemic; 41 (Fall), 70-78.
2019     Black life and death across the U.S.-Canada border: Border violence, fugitive belonging and a Turtle Island view of Black liberation. Critical Ethnic Studies Journal. Special Issue: Solidarities of Non-Alignment, 5.1, 124-151.
2019     Trans-Atlantic affinities: Post-Ferguson freedom dreams and the global reverberations of Black (feminist) struggle. Scholar and Feminist (S&F) Journa1, Special Issue: Unraveling Criminalizing Webs, Building Police-Free Futures, 15.3. (invited)
 2018     Reading Black resistance through Afrofuturism: Notes on post-apocalyptic blackness and Black rebel cyborgs in Canada. TOPIA: Journal of Canadian Cultural Studies. Special Issue: Black Lives, Black Politics, Black Futures, 39 (Spring), 29–47.
Peer-reviewed Book Chapters
2020      Maynard, R., & Simpson, L. Toward Black and Indigenous futures. In Syrus Ware, Sandra Hudson, & Rodney Diverlus (Eds.), Until We Are Free: Reflections on Black Lives Matter in Canada. University of Regina Press.
2019       Making Black lives matter: Race, resistance and global movements for Black liberation. In G. Culiskan (Ed.), Globalizing Gender, Gendering Globalization. Oxford University Press.
2018       Do Black sex workers' lives matter? Whitewashed anti-slavery, racial justice and abolition. In E. M. Durisin, C. Bruckert, & E. Van der Meulen (Eds.), Red Light Labour: Regulation, Agency and Resistance. University of British Columbia (UBC) Press, 281–292.
Non-Refereed Book Chapters
2020      Maynard, R, & Piche, J. No-one is disposable: Decarcerating in the time of COVID-19, Sick of the System: Why the COVID-19 recovery must be revolutionary. (Eds.) BTL Editorial Committee,  Between the Lines.
Honours and Awards
2020
2020
Nominee, Dayne Ogilvie Prize for LGBTQ Emerging Writers, Writers Trust of Canada
2020
"33 Black Canadians Making Change Now", Chatelaine
2019 - 2022
Vanier Canada Graduate Scholarships, University of Toronto
2019
Noires sous surveillance, winner of the Prix des libraires, category 'Essais' (Association des libraires du Québec (ALQ)
"Author of the year", Gala Dynastie, Fondation Gala Dynastie, Montreal Black History Month, Named in "Ten authors to watch" by Radio-Canada (CBC)
University of Toronto, WGSI department conference grant
2018-2022
Faculty of Arts and Sciences (FAST) Top Doctoral Fellowship, University of Toronto
2018
University of Toronto, Entrance scholarship
University of Toronto, WGSI department, conference funding
Policing Black Lives featured in "Best books of 2018", Walrus Magazine
Policing Black Lives,  Shortlisted for Atlantic Book Award, "Best Atlantic published book", Atlantic Publishers Marketing Association (APMA)
Policing Black Lives, Finalist, "Mavis Gallant Prize for Non-Fiction"
Policing Black Lives, Finalist, "Concordia University First Book Prize"
Policing Black Lives, CBC (Canadian Broadcasting Canada) National Bestseller (5 consecutive weeks, Winter 2018)
2017
Errol Sharpe Annual Book Prize, Society for Socialist Studies $500
Deans Honours List, McGill University
Policing Black Lives featured in "Top 100 books of 2017", The Hill Times
Policing Black Lives featured in "Twelve books that challenge Canada's colonial history", Now Toronto
"Ku Klux Kanada", #1 most-read story of 2017, Maisonneuve Magazine