Robyn Maynard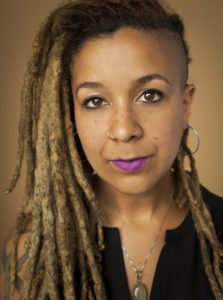 Areas of Interest
Black feminist thought
Black social movements
Abolition
Policing, borders, carcerality
Black/Anti-colonial studies
Black and Indigenous solidarities
Black Canadian studies
Biography
Robyn Maynard is an Assistant Professor of Black Feminisms in Canada at the University of Toronto-Scarborough in the Department of Historical and Cultural Studies, with a graduate appointment in the Women and Gender Studies Institute at the St. George Campus. She is the author of Policing Black Lives: State violence in Canada from slavery to the Present (Fernwood, 2017) and the co-author of Rehearsals for Living (Knopf/Haymarket, Abolitionist Papers 3, 2022).  She has published writing in the Washington Post, World Policy Journal, the Toronto Star, TOPIA: Canadian Journal of Cultural Studies, Canadian Woman Studies, Critical Ethnic Studies Journal, Scholar & Feminist Journal, and a number of peer-reviewed book anthologies. Maynard's research and teaching focus on transnational Black feminist thought Black social movements, policing, borders and carceral studies, Black-Indigenous histories and praxis, Black Canadian studies, as well as abolitionist and anti-colonial methodologies.
Program: PhD 2018
Education
PhD (ABD), Women & Gender Studies, University of Toronto
BA, McGill University 
Dissertation
Title: TBA
Supervisor: D. Alissa Trotz
Presentations
Title TBA. Imperial Intimacies. (April 24-25, 2020). Invited speaker. Yale University, Boston, MA.

Resisting Gendered State Violence Across Turtle Island: Cross-Border Solidarity Against Anti-Blackness, a conversation with Robyn Maynard. (2019, April). Barnard College, New York, NY.

"Policing Black Lives". (2018, November).  Movements for Black Lives: An Insider's View, Transnational Perspective and a Historical Analysis. Presidential session. National Women's Studies Association (NWSA), Atlanta, GA.
Selected Works
Maynard, R. & Simpson, L. B. Rehearsals for Living. Foreword by R. W. Gilmore, Afterword by R. D. G. Kelley. Knopf (ed. L. Henry, Canada); Haymarket: Abolitionist Papers Series (ed. N. Murakawa, US/UK)
Maynard, R., Simpson, L. B., Voegele, H. & Griffin, C. Every day we must get up and relearn the world: An interview with Robyn Maynard and Leanne Betasamosake Simpson. Interfere: Journal for Critical Thought and Radical Politics (Fall).
Police abolition/Black revolt. TOPIA: Canadian Journal of Cultural Studies. Special Issue: Our COVID Conjuncture: Critical Essays on the Pandemic; 41 (Fall), 70–78.
Trans-Atlantic affinities: Post-Ferguson freedom dreams and the global reverberations of Black (feminist) struggle. Scholar and Feminist (S&F) Online, Special Issue: Unraveling Criminalizing Webs, Building Police-Free Futures, 15.3. (invited)
Policing Black Lives: State Violence in Canada from Slavery to the Present. Fernwood Publishing.
Honours and Awards
2022
Honouree, Viola Desmond Award, Ryerson University
2022
Governor General Literary Award, Nonfiction (2022)
2020
2020
Nominee, Dayne Ogilvie Prize for LGBTQ Emerging Writers, Writers Trust of Canada
Honouree, 100 Accomplished Black Women, Congress of Black Women of Canada
"33 Black Canadians Making Change Now", Chatelaine
2019 - 2022
Vanier Canada Graduate Scholarships, University of Toronto
2019
Noires sous surveillance, winner of the Prix des libraires, category 'Essais' (Association des libraires du Québec (ALQ)
"Author of the year", Gala Dynastie, Fondation Gala Dynastie, Montreal Black History Month, Named in "Ten authors to watch" by Radio-Canada (CBC)
University of Toronto, WGSI department conference grant
2018-2022
Faculty of Arts and Sciences (FAST) Top Doctoral Fellowship, University of Toronto
2018
University of Toronto, Entrance scholarship
University of Toronto, WGSI department, conference funding
Policing Black Lives featured in "Best books of 2018", Walrus Magazine
Policing Black Lives,  Shortlisted for Atlantic Book Award, "Best Atlantic published book", Atlantic Publishers Marketing Association (APMA)
Policing Black Lives, Finalist, "Mavis Gallant Prize for Non-Fiction"
Policing Black Lives, Finalist, "Concordia University First Book Prize"
Policing Black Lives, CBC (Canadian Broadcasting Canada) National Bestseller (5 consecutive weeks, Winter 2018)
2017
Errol Sharpe Annual Book Prize, Society for Socialist Studies $500
Deans Honours List, McGill University
Policing Black Lives featured in "Top 100 books of 2017", The Hill Times
Policing Black Lives featured in "Twelve books that challenge Canada's colonial history", Now Toronto
"Ku Klux Kanada", #1 most-read story of 2017, Maisonneuve Magazine
Teaching