S. Trimble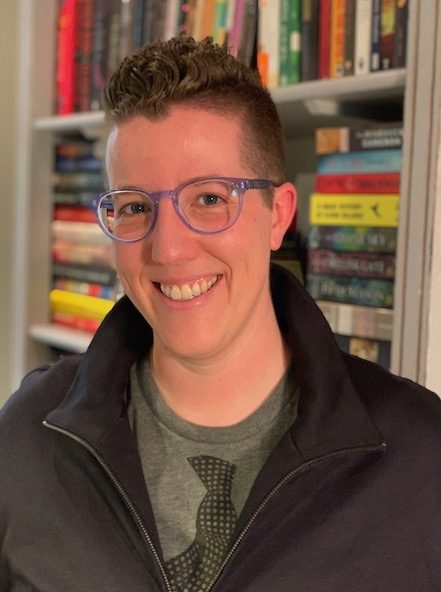 Areas of Interest
Cultural studies
Black feminist thought
Queer theory
Feminist film theory
Postcolonial studies, settler colonial studies
New histories of capitalism
Atlantic histories 
My research focuses on speculative and horror storytelling in both literary and cinematic forms. I consider: the relationship(s) between conceptions of the human and conceptions of monstrosity or outsiderness; the role of affect both in these stories and in our engagements with them; and the ways these narratives metabolize the long colonial and capitalist histories that shape our present.  
My current research focuses on the horror genre, with an emphasis on the figure of the haunted house. I'm especially interested in examining the "Golden Age" of horror cinema in the 1970s alongside the renaissance in the genre we're seeing today. The project tracks the development of horror tropes—haunted houses, witchy women, demonic children—and attends to the ways these tropes travel across discursive contexts, creating feedback loops between pop culture storytelling, journalism, and even political speech.  
Biography
Trimble is a writer, teacher, and pop culture critic. Her first book, Undead Ends: Stories of Apocalypse (Rutgers 2019), takes contemporary apocalypse films as occasions to explore the sexist, colonial, antiblack underpinnings of how we imagine humanness and survival. Drawing on Sylvia Wynter's work on the inventions of Man, Trimble tracks the figure of the Last Man across cinematic apocalypses, observing how apocalypse films both reinforce and deviate from a violent, colonial story of what it means to be human—and how humans might survive together.  
Trimble's latest research focuses on the haunted house, preliminary thoughts on which can be found in Allyson Mitchell and Cait McKinney's edited collection, Inside Killjoy's Kastle (UBC Press, 2019).  
Education
PhD, English and Cultural Studies, McMaster University (2012). 
MA, Centre for the Study of Theory and Criticism, Western University (2007). 
BA, English, York University (2005).
Selected Publications
Undead Ends: Stories of Apocalypse. Rutgers University Press, 2019. (ISBN: 978-0-8135-9364-7) 
"Home Sick: Horror, Gothic Storytelling, and the Queers Who Haunt Houses." Inside Killjoy's Kastle: Dykey Ghosts, Feminist Monsters, and Other Lesbian Hauntings, ed. Allyson Mitchell and Cait McKinney. University of British Columbia Press in collaboration with The Art Gallery of York University, 2019. (ISBN: 9780774861571) 
The Work of Return, edited by Nadine Attewell and S. Trimble, a special issue of TOPIA: Journal of Canadian Cultural Studies 35 (Spring 2016). (ISSN: 1206-0143)  
Honours and Awards
Teaching
Undergraduate Courses:
WGS271Y: Gender in Pop Culture  
WGS460Y: Honours Seminar