Vanbasten Noronha de Araújo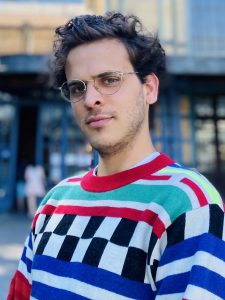 PhD Student
Areas of Interest
Decolonial Science and Technology Studies
Environmental Humanities
Queer Ecologies
Sexual and Reproductive Health
Latin American Studies
Brazilian Studies
Biography
Vanbasten de Araújo is a Brazilian scholar interested in decolonial science and technology studies in Latin America, especially in Brazil. His current PhD project focuses on how toxic matter affects the daily lives of humans and nonhumans, creating long-term health effects, particularly regarding their sexual and reproductive health. In his dissertation, he is interested in furthering the studies on 'non-spectacular forms of contamination' – an intoxication that does not happen through large-scale environmental disasters. He focuses on pesticides as the primary toxic matter for his research because of its particular way of infiltrating lives via the life-sustaining action of consuming and/or producing food and its relation to larger structures of inequalities. Through working with pesticides, he also considers – from feminist and decolonial perspectives – issues of women's labor in agriculture, food security, and the 'biopolitics of toxicity' under neoliberal economies. He sees in non-spectacular forms of contamination the opportunity to question how the understanding of toxicity in contemporary society has radically changed after infrastructural catastrophes such as Chernobyl, Love Canal, and the Bhopal Gas Tragedy. Considering modes through which matters of life and death have been mediated by technological advances in contemporary society, de Araujo is interested in the ways these catastrophic experiences frame policies and researches regarding other 'less visible' forms of intoxication.
Program: PhD 2020
Education
BA, International Relations, Universidade de Brasilia, Brasilia
MA, Critical Gender Studies, Central European University, Budapest
Dissertation
Supervisor: Michelle Murphy
Presentations
Prismatic Ecologies of Death/Life: Plastic Pollution and the Death of Cup Corals
First Queer Death Studies International Conference – Karlstadt University, Sweden, November, 2019

Unsettling clinical encounters: the entanglement between bodies, affects, and pain in Fibromyalgia treatment Cultural Crossings of Care - University of Oslo, Norway, October, 2018

Selected Works
de Araújo, Vanbasten. 2019. Life without humankind – queer death/life, plastic pollution, and extinction in. Women, Gender & Research 49–61. https://doi.org/10.7146/kkf.v28i2-3.116308
de Araújo, Vanbasten. 2019. Mother and Son Shared Pains – the entanglement between bodies, affects, and pain in Fibromyalgia treatment. Lova – Journal of Gender Studies and Feminist Anthropology. Issue 40 (1) pp. 29-47.
Honours and Awards
2020-2024
University of Toronto – Connaught International Scholarship for Doctoral Students
2020
University of Toronto – Faculty of Arts and Sciences Doctoral Recruitment Award
2020-2021
Duke University – Feminist Theory Workshop Award
2017-2019
Central European University – MA Tuition Fee Scholarship
2018
Central European University – Internship Funding Award