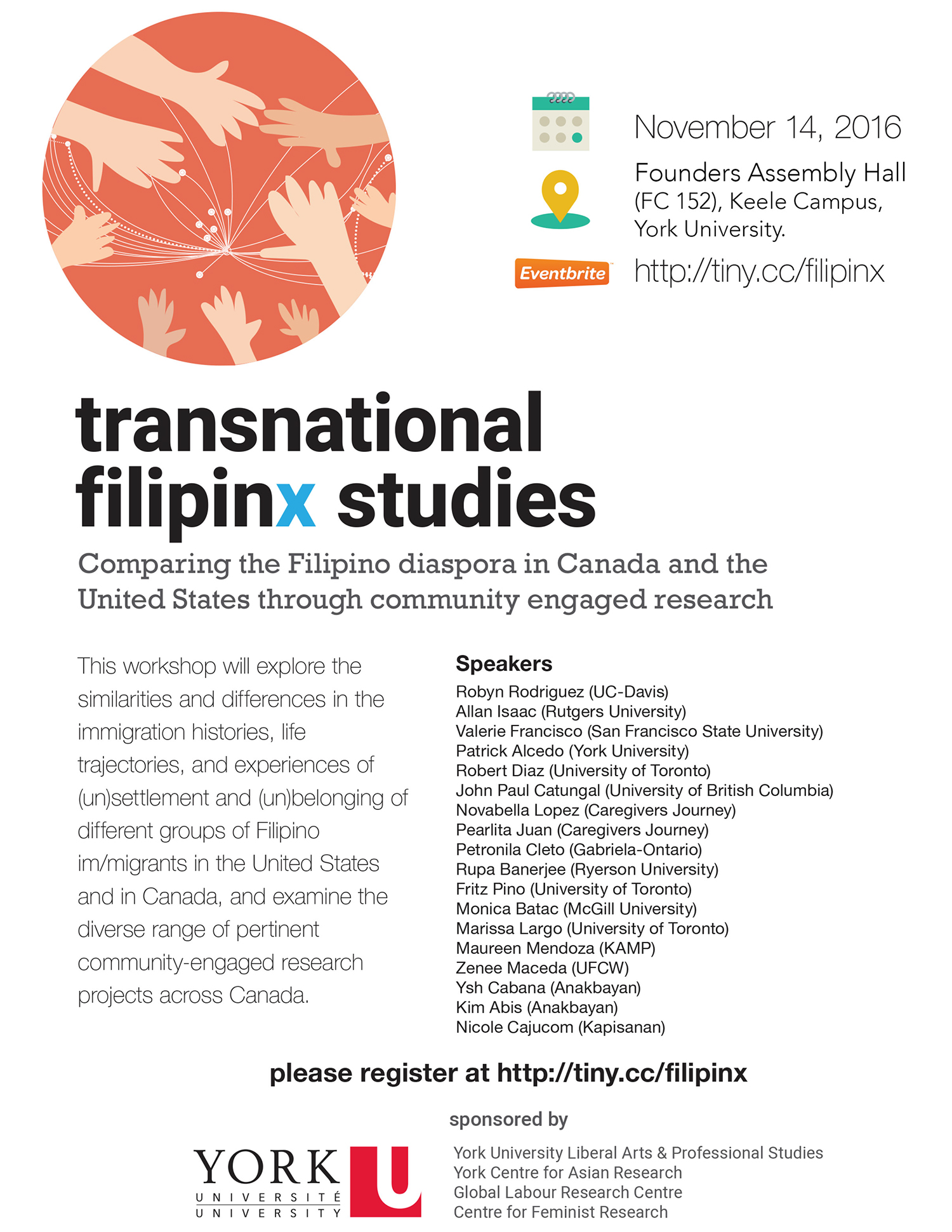 A gathering/workshop that will be held at York University (Founder Assembly Hall, Room FC152) that seeks to:
 Explore the similarities and difference in the migration histories, life trajectories, and experiences of (un)settlement and (un)belonging of different groups of Filipino im/migrants in the Unites States and Canada.
Examine a range of community-engaged research projects across Canada.
Panel of Speakers:
Robyn Rodriguez (UC-Davis)
Allan Isaac (Rutgers University)
Valerie Francisco (San Francisco State University)
Patrick Alcedo (York University)
Robert Diaz (University of Toronto)
John Paul Catungal (University of British Columbia)
Conely De Leon (York University)
Philip Kelly (York University)
Jennilee Austria (Filipino Youth in Transition Survey)
Petronila Cleto (Gabriela-Ontario)
Rupa Banerjee (Ryerson University)
Fritz Pino (University of Toronto)
Monica Batac (McGill University)
Marissa Largo (University of Toronto)
Maureen Mendoza (KAMP)
Zenee Maceda (UFCW)
Ysh Cabana (Anakbayan)
Kim Abis (Anakbayan)
Nicole Cajucom (Kapisanan)
This event is being organized by Ethel Tungohan (Assistant Professor, Department of Political Science, York University) and Robert Diaz (Assistant Professor, Women &Gender Studies Institute, University of Toronto).
Breakfast and Lunch will be provided.
Please register through our Eventbrite page at: https://www.eventbrite.ca/e/transnational-filipinx-studies-tickets-28781398939