Sam Dolores Sanchinel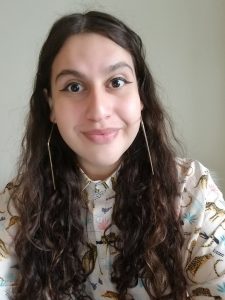 PhD Candidate
Areas of Interest
Transgender Theory
Continental Philosophy of Religion
Latinx Studies
Biography
Sam Dolores Sanchinel (they/her) is a PhD candidate in the Women and Gender Studies program. Her research focuses on trans identities, and their interactions with the ethics of Christian religious traditions. They have also presented work on teaching pedagogies in trans studies, Latinx studies, and trans healthcare relations.
She completed her master's degree in the Humanities at York University. Their Major Research Project focused on finding the roots of Western gender bias in ancient Greek metaphysics, in contrast to providing a reading of trans embodiment through Kant, Kierkegaard and Nietzsche.
Program: PhD 2019
Education
MA, York University: Humanities
B.A. Spec. Hons.: York University, Humanities
Dissertation
Title: Trans Prophecies: A Spiritual Reading of Trans Identity
Supervisor: Dina Georgis
In following their Nepantlera, trans, "borderlands" personhood, Sam's dissertation focuses on a pairing of transgender studies with continental philosophy of religion, to aim at providing a trans reading of Biblical ethics through an understanding of trans identity as prophetic.
Presentations
Sanchinel, Sam Dolores (2024, forthcoming) TransDolor: The Pain in Trans Studies
Trauma and Healing: 12th East-West Philosopher's Conference
University of Hawaii at Manoa, Hawaii

Sanchinel, Sam (2023) Gender Diversity in Indigenous Latin American Cultures
HIS389H1 Topics in History: History of Sexual Diversity in Latin America
University of Toronto, History Department

Sanchinel, Sam (2022) Land Acknowledgements and Trans Philosophy: What are we Compelled to Do?
2022 Pacific Division meeting of the American Philosophical Association: The AAPA-APA Teaching Hub
Vancouver, British Colombia

Sanchinel, Sam (2021) La seducción/la singularidad universal del género: Una profecía posttranssexual
IV Congreso de Doctorandos en Filosofía
Pontifical Catholic University of Chile, Santiago
Selected Works
Peer-Reviewed Journal Articles
Ashley, Florence and Sanchinel, Sam (2023) The Saint of Christopher Street: Marsha P. Johnson and the Social Life of a Heroine, Feminist Review, 134(1). https://doi.org/10.1177/01417789231166827
Sanchinel, Sam. (2022), The Godly "I Am" of Trans Identity, Religion and Gender, 13(1) https://doi.org/10.1163/18785417-tat00004
Sanchinel, Sam (2021) Tengo Sueño: a cross-generational Latinx dream of borders, religion, and trans identity, Theology & Sexuality, 27(2-3) https://doi.org/10.1080/13558358.2021.1908820
Blog Posts
Sanchinel, Sam (2022) Land Acknowledgements and Trans Philosophy: What are we Compelled to do?, Blog of the APA: Diversity and Inclusiveness. https://blog.apaonline.org/2022/08/18/land-acknowledgements-and-trans-philosophy-what-are-we-compelled-to-do/
Sanchinel, Sam (2022) A History on College Street: Learning from Oral History in Enunciating Latina and Trans Identities. LGBTQ Digital Collaboratory, https://lgbtqdigitalcollaboratory.org/a-history-on-college-street/
Forthcoming Peer-Reviewed Book Review
Sanchinel, Sam Dolores. Hijas de La Putisima: A Tran Femme Perspective on Juana María Rodríguez's Puta Life. Graduate History Review (forthcoming 2023)
Honours and Awards
2023-2024
Ontario Graduate Scholarship
2022-2023
Ontario Graduate Scholarship
2022
University of Toronto 3-Minute Thesis, Semi-Finalist
2021
Margrit Eichler Leadership Award
2021
(Nominated) WGSI TA Award
2021-2022
Ontario Graduate Scholarship
2020-2021
Ontario Graduate Scholarship
2018, 2019
York Graduate Scholarship