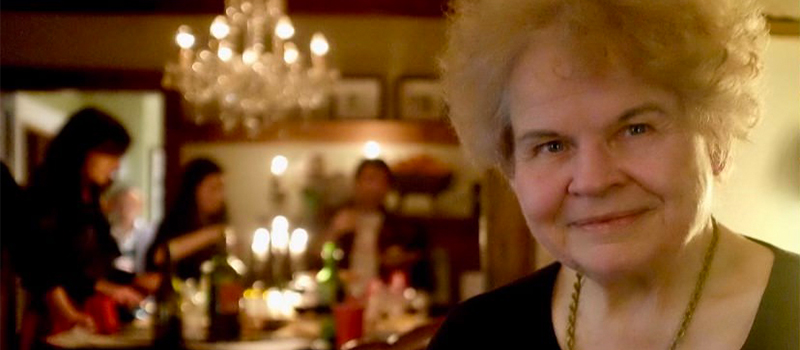 Kathryn Pauly Morgan — Witty; Inquisitive; Someone you can talk to; Philosopher; Imaginative
Kathryn Pauly Morgan, mother to Daniel Pauly, sister to John, Charles, Dave, and Mark Pauly, and daughter to Leon and Estelle Pauly, was born in Sheboygan, Wisconsin on August 20th, 1943. Kathryn/Kate/Kathy/Grandma Kate/Professor Morgan died of complications of Parkinsonism (multiple system atrophy) on September 16th, 2022, in Toronto, Canada. Kathryn is survived by Daniel, her daughter-in-law, Corinn Columpar, and her granddaughter, Harper Pauly.
Kathryn Morgan began her life as the first born, only daughter to a Catholic family physician/surgeon and a feisty homemaker whose dreams of university education were shattered by the Great Depression. Kathryn claimed that among her aspirations as an adolescent was to be chosen "The Bratwurst Queen", in Wisconsin, the "bratwurst capital of the world". Although she never achieved this goal, Kathryn led a remarkably accomplished and full life.
Kathryn's academic career began at a Catholic Women's College in Wisconsin, Alverno College, where she earned her B.A. (magna cum laude) in 1965. After graduating, Kathryn began teaching mathematics in Milwaukee. During this time, Kathryn went into a self-described intellectual free-fall. Kathryn abandoned mathematics–to her parents' dismay–and chose to pursue philosophy at the graduate level. Johns Hopkins University recognized Kathryn's ability with a scholarship admittance to their Department of Philosophy graduate program. Kathryn went on to earn her Ph.D. in philosophy ("with distinction") in 1973, writing her dissertation on Descartes, Merleau-Ponty, and the knowledge of the self. She also earned an M.Ed. in Educational Foundations from the University of Alberta in 1972.
In 1974, Kathryn moved to Toronto and supported herself through unpredictable stipendiary teaching assignments in the Department of Philosophy at the University of Toronto, until 1982, when she was hired as a part-time Assistant Professor in the Department of Philosophy and Women's Studies program at the University of Toronto. Kathryn was appointed Associate Professor (with tenure) in 1983, and Full Professor in 1989, in the Department of Philosophy and the Women and Gender Studies Institute. Kathryn was also cross-appointed to the Institute for Medical Science from 1992-1998 and was a continuing member of the School of Graduate Studies and a Fellow in Residence at the Centre for Ethics from 2006-2007.
During these years, Kathryn co-created the New College college program and the then-titled Women's Studies program, the first undergraduate and graduate Philosophy of Feminism courses in the Department of Philosophy curriculum, the Canadian Society for Women in Philosophy (meant to nurture beginning and mature feminist philosophers), and, over time, the Women and Gender Studies Institute's master's and doctoral level programs. Without graduate students and a doctoral program, Kathryn argued, Women's Studies would never have full legitimacy at the University of Toronto. In 2013, the year of her retirement, in part because of Kathryn's efforts, the first class of doctoral students was admitted to the Women and Gender Studies Institute.
Additional achievements of Kathryn's academic career include writing the canonical article on "Sexism" in the Encyclopedia of Philosophy; receiving a prestigious Ontario Confederation of University Faculty Association award for Excellence in Teaching for her innovative pedagogical methods and curriculum development (while serving as a part-time stipendiary instructor struggling with economic and professional uncertainty); helping found the field of feminist bioethics and the International Journal of Feminist Approaches to Bioethics; and helping lay the foundation for the establishment of the well-respected journal, Hypatia: A Journal of Feminist Philosophy. Kathryn was also honoured by colleagues in philosophy of education who nominated her to be the President of the North American Philosophy of Education Society.
Kathryn's research interests were ahead of her time. She published groundbreaking papers on her diverse research interests, which included sexuality, gender, cosmetic surgery, reproductive technologies, and romantic love. Some of her most highly regarded and creatively titled papers are: "The Perils and Paradoxes of the Bearded Mothers", "Women and the Knife: Cosmetic Surgery and the Colonization of Women's Bodies", "Of woman born? How old-fashioned!—New Reproductive Technologies and Women's Oppression", "From Ugly Duckling to TechnoSwan: a Foucauldian Analysis of Biomedicalized Aesthetics", and "Gender Police" . Kathryn's publications were infused with her incisive and accessible analysis, acerbic wit, irreverent humour, and creativity.
After her retirement, Kathryn continued her commitment to personal growth and political action. She learned to play the ukulele, co-founded Toronto's first seniors-age improvisational troupe ("Boom Baby Boom"), practiced Tai-Chi, and continued her tireless personal and academic mentorship. Kathryn was a cherished activist, feminist, mentor, friend, sister, mother, and grandmother, to all who knew and loved her.