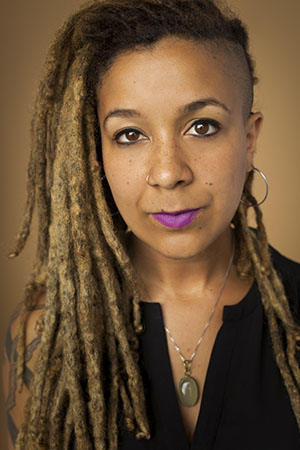 It is with tremendous pleasure WGSI shares the exciting news that Robyn Maynard, doctoral candidate in WGSI who is currently writing her dissertation, will be starting a tenure-stream position at UTSC in the Department of Historical and Cultural Studies. Robyn will have a graduate appointment at WGSI.
Below is the announcement that went out in the HCS newsletter.
HUGE congratulations, Robyn, and welcome!!
We are delighted to that share the news that Robyn Maynard will be joining the Department of Historical and Cultural Studies as Assistant Professor of Black Feminisms in Canada on July 1st!
Robyn is a PhD Candidate in the Women & Gender Studies Institute at the University of Toronto where she is a Vanier scholar and holds a SSHRC Talent Award (2019-2022). Her dissertation is tentatively titled "Black liberation//Border abolition." She is the author of two books, Policing Black Lives: State violence in Canada from slavery to the present (Fernwood, 2017) and Rehearsals for Living (Haymarket: Abolitionist Papers/Knopf Canada), co-authored with Leanne Betasamosake Simpson (forthcoming, 2022). Maynard also has published 11 peer-reviewed book chapters and articles appearing in Critical Ethnic Studies, Scholar & Feminist Online, TOPIA: Canadian Journal of Cultural Studies, Canadian Woman Studies and elsewhere. Her work on Black feminism, carceral studies, policing, borders, abolition, and Black-Indigenous relations has been translated into French and German is taught widely across North America and Europe.
Look out for announcements at a later time regarding courses she will be teaching in the upcoming year!
Catch Robyn at the launch of her book Rehearsals for Living with Leanne Betasamosake Simpson on June 16th at 7pm at Wychwood Barns. See below for more details and register here. All are welcome!