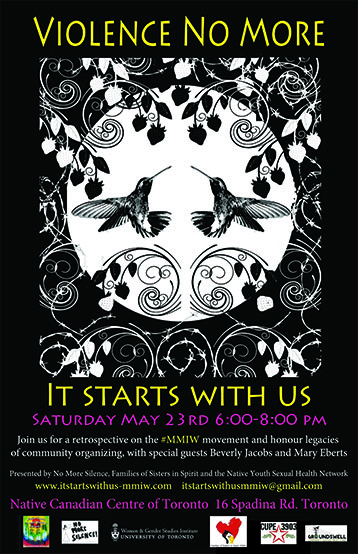 Join No More Silence Families of Sisters in Spirit and The Native Youth Sexual Health Network to honour the legacies of community based organizing to end violence against Indigenous women, trans and two spirit people with an evening of speakers and discussion.
 Reflections by Beverley Jacobs and Mary Eberts on their work in building the movement to end violence against Indigenous women as well as an update from It Starts With Us!
Join us in community on the path of decolonization towards a world free of global oppression!
Please bring your hand drums!
Food by http://www.theempanadadealer.com/
Thanks to the Women & Gender Studies Institute at the University of Toronto for their financial support of this gathering that will bring together Indigenous women from Newfoundland to Vancouver.
Big thanks to the Groundswell fund for your support!
Miigwetch also to CUPE 3903 and the departments of Anthropology, Aboriginal Studies and Geography at the University of Toronto.
For more details, visit their Facebook Page.