Neha Verma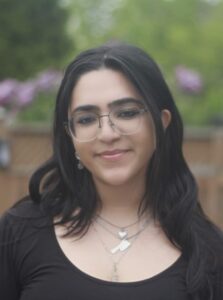 Areas of Interest
Postcolonial Studies
Transformative Justice and Anti-Carceral Feminisms
Sexual Violence
Queer and Trans Studies
Collective Trauma, Grief and Healing
Biography
Neha Verma is a queer South Asian student, writer, and creative. Neha is a MA student in the Women & Gender Studies Institute at UofT, they hold a BA in Law & Society from Wilfrid Laurier University. Over the past three years, Neha has been committed to her work in sexual violence prevention and response, both in formal and informal spaces. They have written several articles for numerous feminist publications, with topics ranging from trans liberation to anti-carceral feminisms. Her research engages a discussion of postcolonial studies, transformative justice, sexual violence response, queer and trans studies, and collective trauma. Throughout all of their work, Neha aims to expand upon frameworks of resistance, using a trauma-informed framework to inform the ways that we may be able to collectively embody liberation.
Program: MA 2023
Education
BA, Wilfrid Laurier University
Master's Research Paper
Supervisor: Dina Georgis
Presentations
Unpacking Sexual Violence Through an Anti-Racist Framework. Presented through the Sexual Violence Response Certificate, Wilfrid Laurier University. 2022.

Engaging a Sexual Violence Response Through an Anti-Racist Lens: A Workshop for Supporting BIPOC Survivors. Presented as a training to staff at Wilfrid Laurier University. 2023.

Selected Works
Verma, N. (2022). "Limp Wrists, Clenched Fists: An Analysis of Queer Performance Art as a Tool for Political Resistance." Bridges: An Undergraduate Journal of Contemporary Connections 6, (1). https://scholars.wlu.ca/bridges_contemporary_connections/vol6/iss1/3